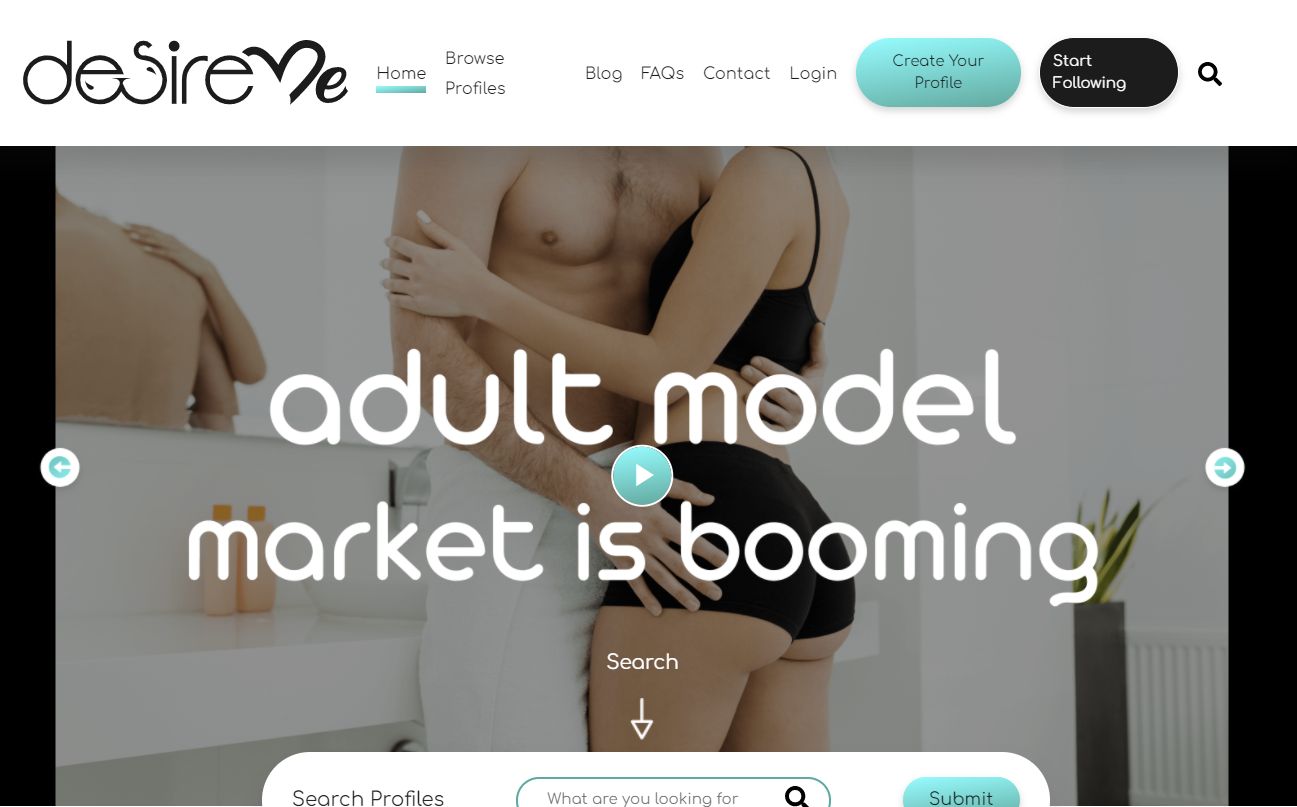 DesireMe
Desire.me - are you a player or a watcher?
The global pandemic hit, and the porn world changed, for the better. With the rise of new social media platforms, everyone started searching for new and exciting ways to experience porn. Platforms like Onlyfans opened the door for customizable porn, new and original content. More and more sites offer their creators to set up profiles, post their content however they like, and put a price on their work and create a great source of new income. The urge for traditional porn died down, and the need for new and fresh faces increased. Those sites, like Desire.me became a part of a new porn world, and made changes that forever changed how we experience and demand porn.
Desire.me is a site that is dedicated to bringing you fresh faces, all around the globe, who joined the site to be a creator and share their nude pictures, sizzling videos and so much more with their paying customers. Girls, guys, trans folk and couples opt out for subscribable platforms, where their content is appreciated with a great price. So you too can be a player or a watcher, the choice is entirely yours, but with a growing platform like Desire.me, which works like any other social media network, it's hard to only sit back and let this play out before your eyes. Content creators chose Desire.me because its algorithm pushes their profiles to the homepage, so newcomers can see what this site has to offer, and every creator has the potential to be a rising or a superstar.
As a viewer, you can subscribe to your favorite profiles, for a fee that the creator chose, and look through already published content, or request something more personal. Follow your favorite hottie, chat with them, and get exclusive pics or videos. Desire.me lets you filter the profile by your preferred gender, so you can follow hotties, studs, trans folk, or even couples.
The layout of Desire.me
Landing on Desire.me you will be greeted with a soothing white background, with pastel blue accents, that makes it easier for you to catch all the important buttons. A big part of the homepage is dedicated to explaining the core of Desire.me to you, the newcomer. So you can play the greeting video right off the bat, and listen to how Desire.me can better your naughty life. Below the video, you can choose how you wish to use Desire.me, as a creator, or as a follower. Do you wish to desire or be desired? That is the question here.
Above the introduction video, you can see a smaller size toolbar, that can help you navigate this site before you even choose to register. So you can look through some of the popular profiles, or read the Desire.me blog and learn all that there is to learn about this fast-growing site. Should you have any questions, before or after registering, the Q&A section is always available to you.
The last buttons on the toolbar, are the same ones that will follow you around the site, and those are the 'Create Your Profile' and 'Start Following' buttons. One of these can launch your adult career, and the other can bring you porn as you have never seen before.
Categories are divided by gender, so you can quickly sort through the countless sizzling profiles, by your preferred gender. You can go from watching smoking hot girls, of all shapes and sizes, to hunky guys, and stunning trans folk. Couples categories are the last one on the list, and there are profiles who are aching to share their nighttime routine with you and invite you into their bedroom. Take your time in choosing profiles, and get to taste everything that Desire.me has to offer.
Signing up and subscribing to profiles
If you wish to be a part of the Desire.me community, here's how. First things first, you have to choose whether you wish to be a creator or a viewer. If you want to desire and be a follower, then the signing up button will be on the right of the site, and you want to click on 'Start Following'. You will be directed to a signing up page, and after filling in your information such as your given name, email, and username, all you have to do is enable your location, choose a profile picture and start following. Signing up is free, but keep in mind that subscribing price depends on the creator.
Becoming a creator is a simple process, instead of clicking on the following button, you want to click on the 'Create Profile' button. Most of the process is the same as becoming a follower, only you, as a creator will have to provide your phone number and choose a category you wish to be displayed. After completing the first step, and going through all of the motions like setting up payment and identification, you are all set to start posting your sizzling content for your eager followers to see.
In conclusion
Desire.me is a site that wants to bring creative content creators, and eager and paying followers together. This site has an elegant and simple design, allowing every user, no matter how they use this site, to be able to see everything clearly. While the signing up process has a few steps, after all the fuss, it's worth it.
Once you have your profile set up, you are free to watch or be watched. As a watcher, you can follow and discover as many profiles and creators ad you want. Stunning male, female, trans, and couple creators are waiting for you to show you their amazon, fresh and original content. Keep in mind that while the Desire.me platform is free, subscribing and seeing the naughty content has its individual fees. Go check out the new and growing platform Desire.me and be desired or desire after gorgeous people!
>