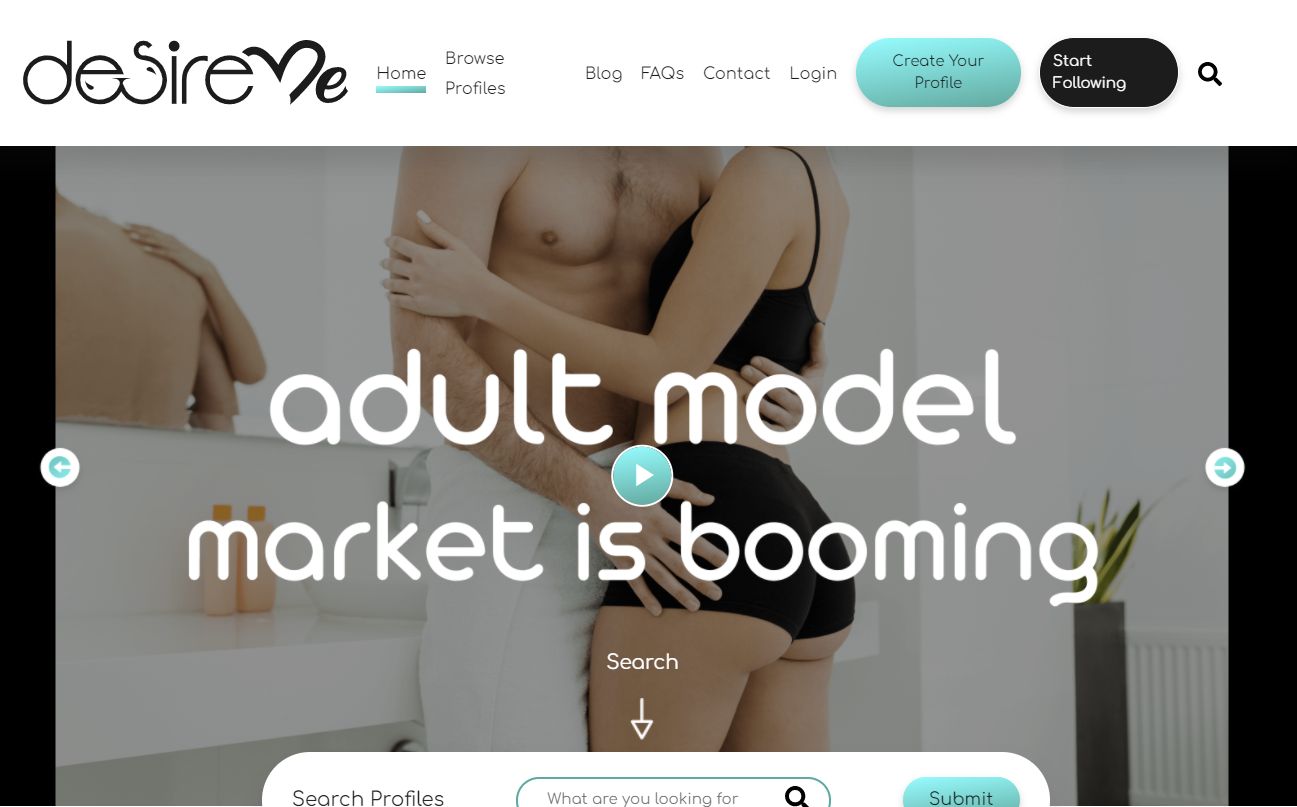 DesireMe
DesireMe.com - Platform for adult content creators
DesireMe.com is an adult content-creating platform, for example, like, OnlyFans or Fansly. On here, you will be able to make your account where you will post your NSFW content and earn money from it. Here you are your own boss and how much you earn depends on your hard work and content quality. Of course, you might not have the best equipment from the start, but that should not stop you from doing this. Most people start without anything, and as they produce the content, they gain more popularity and more money. As your budget and popularity grow, so will the quality of your content, so that should not stop you from doing it. Many people started as amateurs and are now pros who do this profession as a full-time job and thrive in their career of choice. Being your own boss seems hard and impossible, but with DesireMe.com, you will be able to achieve that dream. As you promote your content on social media, you will gain a fanbase and do fine you just have to believe in yourself! You can either become a content creator on DesireMe.com or make a profile account as a person who will purchase content from the models.
Create your profile as a content creator
If you decide to become an adult content creator on DesireMe.com, you will have to fulfill a few easy steps. Firstly you will have to input your basic information such as your first name, last name, email address, and user name. Display name will be the name you will use on your profile, and it will be the main one, unlike other information which will be private. Be sure you input everything correctly so you won't have trouble once you have to withdraw the money you earned. Your username is how your DesireMe profile is identified, and your displayed name will be the main name. Your display name can be between 3 and 26 characters. They have a phone number input which is optional but preferred if there are some fundal problems and they can't reach you on your email. You will have to make your password as well as choose the category if you are a female, male, trans, or a couple. Enable two-factor authentication to increase the safety of your account and confirm their terms and privacy policy. You should also read it because it happens that some sites don't allow some type of content and get banned because of it. It is rare, but it happens there are many different types of people out there. You will also be required to confirm that you are 18 years old or older to join.
Become a fan on DesireMe.com
If you wish to enjoy the content that is posted on DesireMe.com and follow the models they have, you will have to make an account. Making an account is totally free, and you will only have to spend money on the content and models you desire to do so. You will have to input your personal information, such as your first name, last name, and your email address. User name will also be required as well as the display name, and all your information except those two will be private. Your user name will be your account identity, and it may only contain numbers and letters. The display name will be used while you are interacting with other users, and it can contain from 3 to 26 characters. The password is also required as well as the picture but keep in mind that no nudity is allowed that is private for paying customers only. You will have to enter your location, which will also be private, and you should enable two-factor authentication for extra security. You also must agree to their terms and privacy policy as well as the confirmation that you are 18 or older. No minors are allowed in these adult spaces, and please respect that and keep yourself and others safe.
Models on DesireMe.com
They have options for all, male, female, couples, trans, and creators who are currently online. Not many platforms like these have options like that, and it's like searching a needle in the bush, which sucks. They are also Lgbtq+ friendly and transexual people have their own category like others. And if some are in a hurry, they have a special option with models that are currently online. The site also has two separate options for rising stars and superstars. They understand it's hard to get through when you first start, so they have this special section for the newcomers. And some people might be more interested in more amateur and inexperienced content creators. For many reasons, some of them might be because they have fewer fans, so you could be noticed much more easily. And if you desire models who are experienced and experts with many fans, there is a superstar option for you to enjoy. You can also sort your page with the most popular content with the most followers, recently uploaded, or most content. You will see many models displayed with the main picture of their face or maybe their body in some sexy lingerie. Some pose with their tits out even, depending on the model and what they want you to see to get your attention. Under their pic, you will see how many pictures and videos they have as well as their username and an option to add them as the desired model. Once you click on the model of your liking, you will see her profile picture that was also displayed but now with the cover pic too. They also have a little description of what they represent, post, info about them, and many other things. The price of their monthly content is also clearly displayed, and if you liked what you saw, you could subscribe. Join DesireMe.com as a content creator or as a fan and enjoy making or spending money!
Pros:
Amazing UI
Easy To Use
Friendly Staff