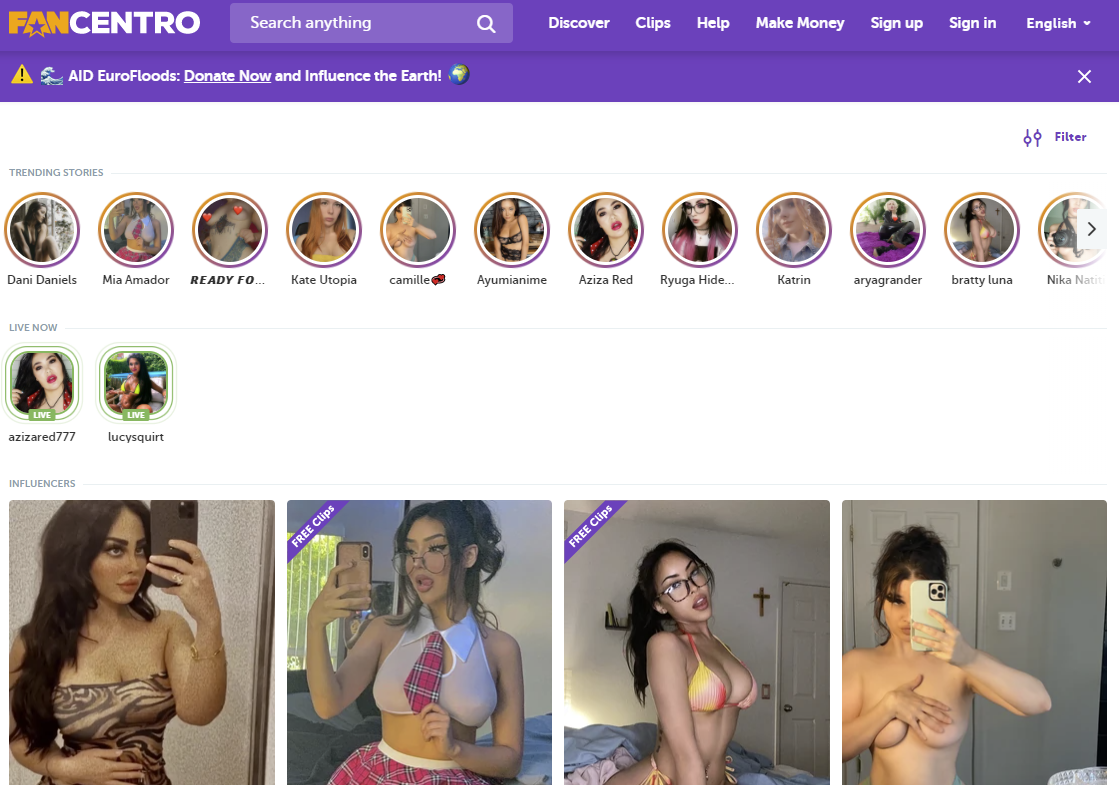 Fancentro
Fancentro.com - connecting adult performers with devoted fans
The modern age has brought us numerous ways to have fun on the internet. Porn websites add hundreds of thousands of new explicit videos daily, touching every existing niche, while live sex shows that broadcast via webcams have conquered the world. Social media have become an integral part of our everyday lives since we all enjoy sharing our precious moments with our fans or friends online. Challenged by the constantly changing adult industry, adult performers had to find alternative ways to reach their audience and monetize it, other than taking part in porn movies or webcam shows. This is when Fancentro.com comes in place, helping content creators connect with their fans, bringing tons of fun to both included parties.
Models, performers, and influences are looking for new ways to make a living from their fan bases and somehow present to the world everything they have achieved in their performances. Fancentro.com is a revolutionary platform that allows all of those who are in the adult entertainment world in any way to bill fans for access to their images, videos, and stories. The idea behind this social platform is to allow subscribers to open accounts, choose the membership plan, and be given the opportunity to delve into the world of the ravishing hotties that don't shy away from nudity or sexuality.
What does Fancentro.com offer to performers?
There are a couple of things you'll need to acquire before setting your account on Fancentro.com, but the most important condition is to love your body and adore showing it off. First of all, performers need to have a profile on any other social media platform and identify themselves via a document that will make sure they are not underage. The moment the sign-up process is finished, the content creator can set up their profile, upload photos, videos or add more info that he or she wants to share with their fans. Selling subscriptions to the fan is available straight away. Once they pay for the subscription, the worshippers will be granted access to the private social media accounts, feeds, and have the ability to send private messages to their favorite performers.
Selling individual clips is also possible. The creator has to set up a price, and fans are given a chance to leave a tip if they find the content to be enticing. Fancentro.com does its best to attract both amateur and professional performers to their platform, offering to transfer all existing content from another platform to Fancentro, providing tools for further monetization through stories, feeds, clips, or live streaming. On top of that, performers earn 80% on every purchase the fans make, turning them into rich and famous legends of the adult world.
Did you know that Fancentro.com also provides opportunities for models and influencers to receive further education and training in order to improve their social media promotion? Centro University is the only online service that offers these services.
Exclusive perks for subscribers
If you have any doubts about whether to subscribe to this naughty piece of heaven, just remind yourself that top-notch pornstars are a part of Fancentro.com. Did you know that Riley Reid, the petite goddess of anal sex, and Dani Daniels, a famous muff diver and a supreme cock worshipper, are here to spice up your lonely nights? This uncensored social network counts hundreds of performers that unite on a quest to treat their fans with unforgettable parties packed with sizzling ideas. Women and men of all shapes and sizes, backgrounds, and kinks are together under this virtual roof, waiting for your message to get the wild party started.
Fancentro.com has a model directory that comes in handy for new subscribers who still don't have a favorite performer. Basically, this list serves to present the steamiest of adult models who have the largest fan bases and the most significant number of views. If you are a person of peculiar sexual inclinations, use the filtering button located in the upper right corner of the page. Choose straight, gay, or transsexual performers, or set the price range that you are willing to pay. As a subscriber, you'll gain access to the performer's exclusive content, HD clips, chat with the creators one-on-one or send DMs. You'll love the mind-blowing options.
Although the option to buy individual clips exists on Fancentro.com, the option to choose one of the membership packages seems like a more profitable option. The prices range from $19.99 to gain access to the performer's fresh daily content and unlock the chatting option to a $150 package that is the cost for the most exclusive package. With this option, you become the creator's priority that is always the first in line for dreams' fulfillment. For only $150 dollars you get access to the content 24/7 and a reply to every message you send to the performer. Not only will the nymphet of your dreams share her naughty photos and vids with you, but she will also accept your content. How fun is that?! You know you deserve royal treatment!
Fancentro.com - enjoy every second of the way
Fancentro.com is an easy-to-navigate and modern website that can be used as a virtual path towards the performers of your dreams, but also as a great pastime. Enjoy a number of engaging blogs on various subjects, or read the news from the adult entertainment industry. Make the best out of dozens of options to turn your lonely days into action-packed sensations, or become the best paying influencer with a huge base of people who'll enjoy your shows while treating you with their undivided attention.
Whether you are interested in becoming a content creator or want to keep in touch with your favorite stars of the adult industry, Fancentro.com will take care of you. Discover the up-to-date, fantastic world of opportunities where nobody shies away from their passionate true selves. Hurry up to become a part of this mesmerizing universe!
Pros:
Lots of models
New Teen Models