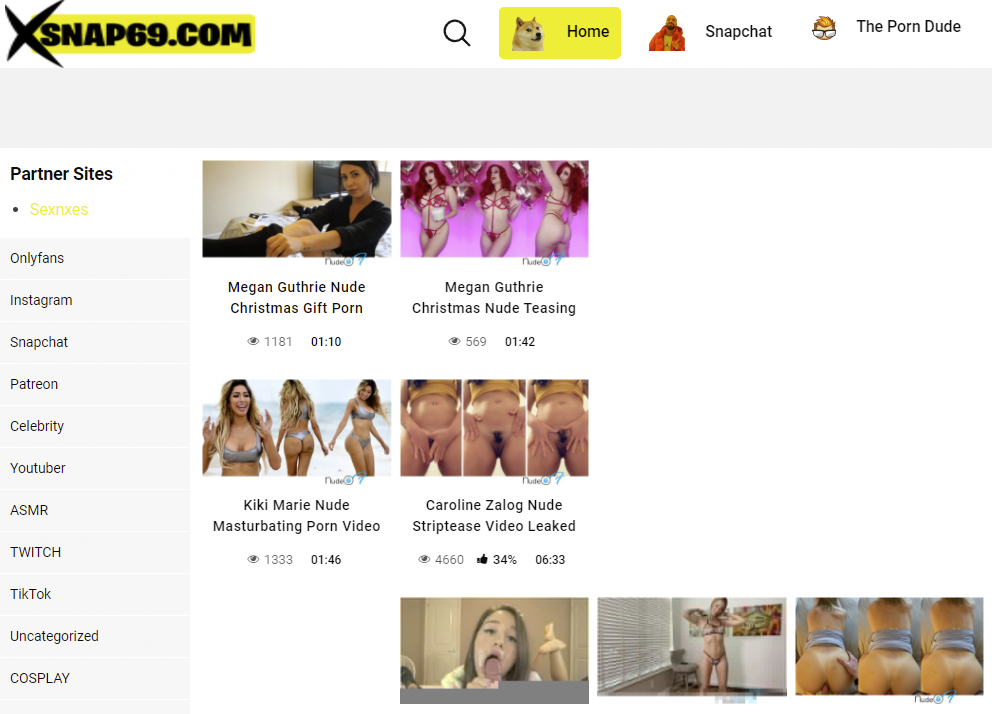 Xsanp69
Does anyone read these reviews? I know some do but most are just trying to bust a fat nut so they scroll down for the link but, I know I repeat myself here by saying all white sites annoy the fuck out of me but yellow and white and just yellow sites actually make me physically sick. This site is both of those but they offer free onlyfans nude video leaks so beggers cant be choosers.
Anyway, right when you click through to the site to get all those juicy onlyfans leaks, you will notice they have a ton of the most recent links with some of the top models out there right now which is a plus! They also have a ton of categories and one of the best video players in all of the onlyfans leak site game! This player is so good and they let you stream HD content straight from the onlyfans model page! Which is unheard of, usually webmasters or site owners of pornsites don't like to eat the bill so its fan can jack off in HD. Bandwidth is not cheap!!
So yeah, amazing content, hd streaming and a beautiful video player. There is a ton of stuff that drives me nuts about Xsnap69. If you looked at just the thumbnail of this review you will notice a lot of images are missing, that's not because we were lazy or took a screenshot way too fast before the site loaded, they just have a horribly coded site that has thumbnail images not loading.
To add, to the thumbnail mess, they honestly don't ever update! Yes I cant hate 100% because when they do update they post some of the most fire onlyfans leaks! However, they never fucking update! I actually have had this site on my bookmarks when looking for certain models to jack off. It gets kind of annoying checking one of the best sites and not seeing anything updated.
Is it worth checking out Xsnap69? 100% but just know its never updated and half the site is broken but when they do its worth all the times you were disappointed.




Pros:
Beautiful Video Player
Fast Servers
Hd Content
Cons:
Images Broken
Never Updated
Mobile Experience Sucks
>