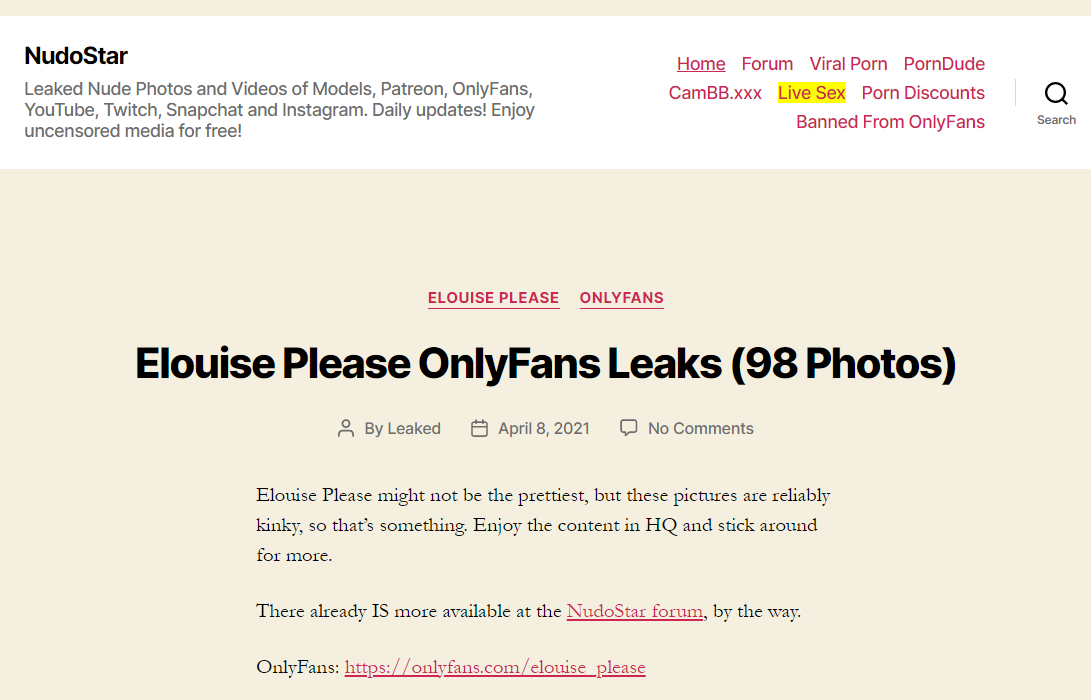 NudoStar
Nudostar, one of the ugliest sites I have ever seen in my life and I have been on the internet when geocities was a thing. This steaming pile of shit called nudostar is so fucking ugly, I normally wouldn't recommend it. However its actually one of the best resources for onlyfans girls and finding them when they change there name (why the fuck do they change their names so often? seems so dumb). Yes Yes, I know they have an amazing forum but I am going to review it separately because of the powerhouse that it is.
As for the main site, it looks like dried dog shit, who designed this thing? I think its just the basic theme you get with wordpress or something (the content management system they are using). However they have a huge archive of onlyfans,patreon,manyvids leaks and a lot more! they have been around maybe two years or so now and they update every single day! Which is a blessing when it comes to other sites on this list where they got 2-3 months without posting a thing.
They post everything kind of goofy and weird, they wont combine the videos in one long one, you have to click on each onlyfans video leak one by one. Which sucks, because if you have not subscribed to an onlyfans account yet, they basically just upload these 4-8 second tease videos to get you to buy the stuff behind the 2nd paywall. It's actually a way to scam their customers but then leak sites will put each and every one of those videos on their site but honestly we cant fap to that shit.
Nudostar.com, is however one of the oldest and best onlyfans leak sites on the net and yeah it looks like shit but their is so much more to the site than just the shitty color design. Give them a click and check it out and join the community! it is huge and amazing! You will pleased and have all the onlyfans leaks you can desire!
Cons:
Hard to browse
Annoying ad's
Ugly Site