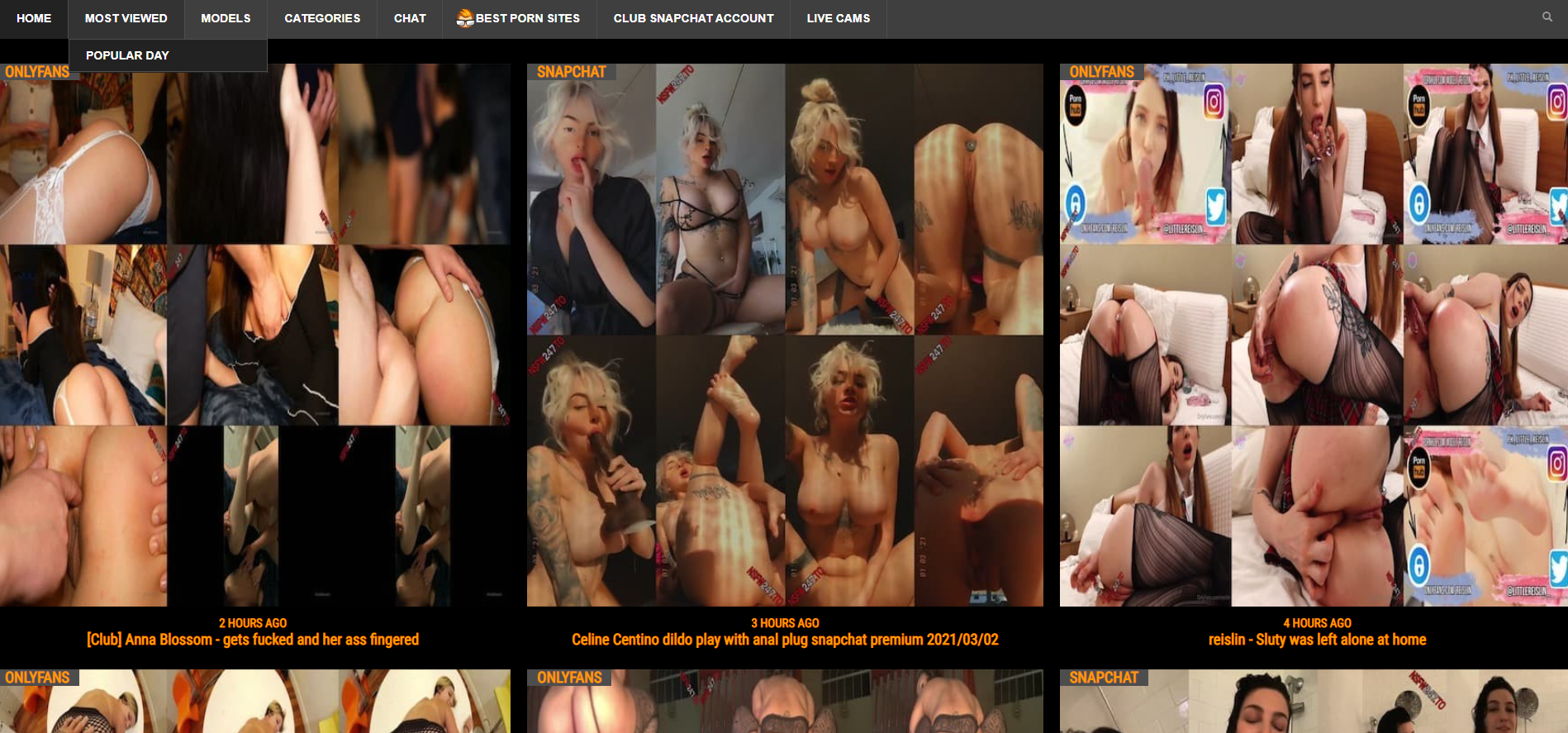 NSFW247
Nsfw247.to, one of the oldest snapchat premium leak sites, turned onlyfans leak site, has probably out of all the leak sites, the biggest archives of nude video leaks on the net! these guy's have been around 4 or 5 years at this point and are still going crazy strong! They have 9 posts per page and 2364 pages. Do the math! that is a ton of onlyfans,snapchat video leaks you can watch!
They post all day everyday! It never stops!
Clubsnapchat
Clubsnapchat is their premium video services, that lets you get everything on faster servers and you can download the videos. However they have some of the most annoying watermarks on any video's, I have ever seen. The watermark moves and sometimes it will be right in the middle where the stuff you want watch is. They post almost everything in vertical, so if you're trying to jack on your phone and make it bigger, good luck. It's almost like you need to invest in one of those monocle they use to look at gemstones to watch your onlyfans leak videos lol and watch it clearly.
We ended up joining the clubsnapchat that they offer, they only take crypto and the experience is actually trash and not worth it. Yeah they limit some good videos from the girls, but the same issues with the watermark and all the other shitty size/scaling is still an issue like on the main free site.
Community
No there not really any community like the other sites, they do offer a really lame and dumbed down discord server. I think we all know at this point about how cucked and lame the discord staff are and will ban you if you say something to mean to some weird furry disabled black tranny.

Ugly Design
If I had not known any better and did not want to jack off so bad, I would think it was a spam site by looking at it. Yeah they offer onlyfans video leaks and premium snapchat video leaks so I hung around a bit longer but if I was not as horny as I was, I would have just clicked away. Its a black and bold orange / yellowish text color.
Give them a click and let us know what you think!
https://nsfw247.club/


Toofff







Pros:
Ton's Of Content
Premium Snapchat Leaks
Thousands Of Models
Cons:
Ugly Site
Bad Premium Experience
Horrible Browsing
Good Videos Are Behind A Paywall
No Forum