/r/OnlyFansLeaksDaily review
back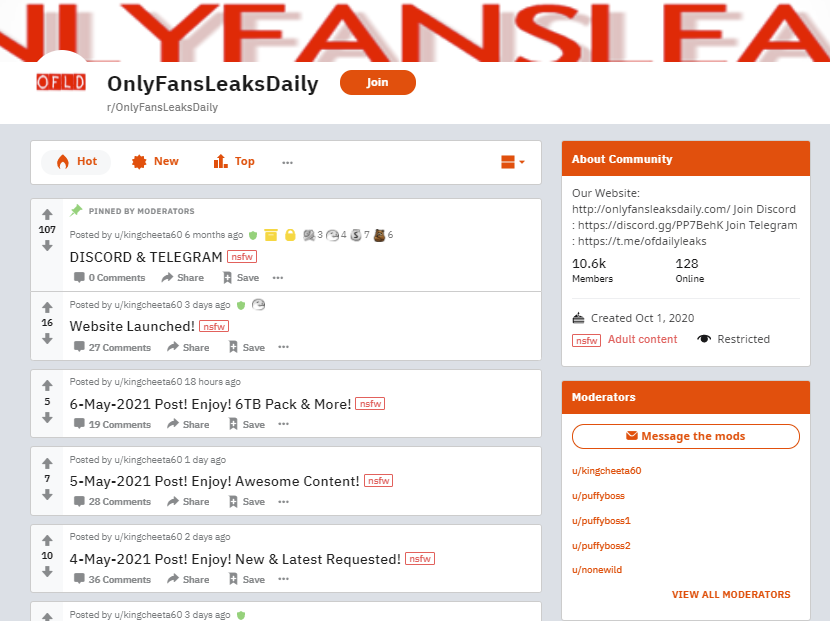 /r/OnlyFansLeaksDaily
This is not only a subreddit but it is also a telegram and a discord that you guys can join right now and check out. They do a ton of updates on all of their channels and their website. Beware the website is ugly as fuck and everything is on a google drive. Beggers cant be choosers I guess, but they picked probably the worst service to use. The site and the onlyfans leaks daily related stuff is all kind of spammy and they do use spammy ad links. If you have time to sit through that stuff then you will like this site.
They seems to be apart of the discord "puffy" network. They have bot's that will post the most recent leaks and the ad links to go download them. The only thing they do avoid is the invite discord links spam. Not sure if anyone else has done the whole onlyfans discord thing looking for leaks and then you come across these servers that make you invite 1-3 people to get access and when you do its just spam and trash.
I am not saying they do it and that is a good thing! These guys have been around for a few months now and reddit has yet to delete them, we will see though. It seems to be that reddit lets onlyfans leaks subreddit's stay around to about 20k subscribers and then they will delete it. Give them a quick subscribe or join the discord channel and let me know when you guys think.
Reddit has a lot more to offer than any porn site
We've all heard of Reddit previously, but not many people would think that this place has a ton of links for leaked videos and galleries of some famous chicks. There are many sub-pages on Reddit, and Only Fans Leaks Daily is one of them. If you are interested in downloading some free leaked pictures of famous chicks on OnlyFans, then this is the place for you.
Instead of going to a porn site and clicking on something you find on the first page, you can check out this list and find something much better with a little extra work. Watching porn can be fun, but wouldn't you like to see a gallery of a celebrity you admire for some time? If that's the case, you can check out one of the posts and find something much better than porn.
Active community
It wouldn't be possible to find this many leaked pictures and videos if it weren't for this big and pretty active community. You can find several hundred members online at all times and the total number of members is north of 11 thousand. The number of members keeps going up and that's all because this place offers a mega-collection of leaked scenes.
Whether you want to see a hot picture of some chick from TikTok or a celebrity sunbathing nude, you can just check out one of the posts and find exactly what you are looking for. There's a chance that you won't find exactly what you are interested in, but you shouldn't worry. All you should do is make a new post and wait for someone to send you a link for some leaked adult scenes.
Leaked scenes are free to download
Sure, free porn is nothing new, and you can find it anywhere on the internet. However, you won't have a chance to see a hot teen from OnlyFans do all kinds of naughty things for free. Instead of paying your monthly membership, you can find the same thing here thanks to one of the members. Not only do you get to watch them, but you can also download them and keep them on your computer. The best part is that you won't have to spend a cent.
Simple interface
If you've never used Reddit before, then you will be surprised by the interface. It's so simple that a small child could use it. Instead of having all those fancy features like on most porn sites, you have none here. You can find a list of the newest posts and go through them to find something leaked. The only thing you can do is switch between hot, new, and top-rated posts on the site. This means that you can find out the newest leaked videos and galleries on the top of the page, but you can also see some of the best ones and find out what other members like to watch. You'd be surprised by how many members have the same taste as you do.
Pros:
Daily Updates
Lots of Content
10k + Subscribers
Decent Community
>