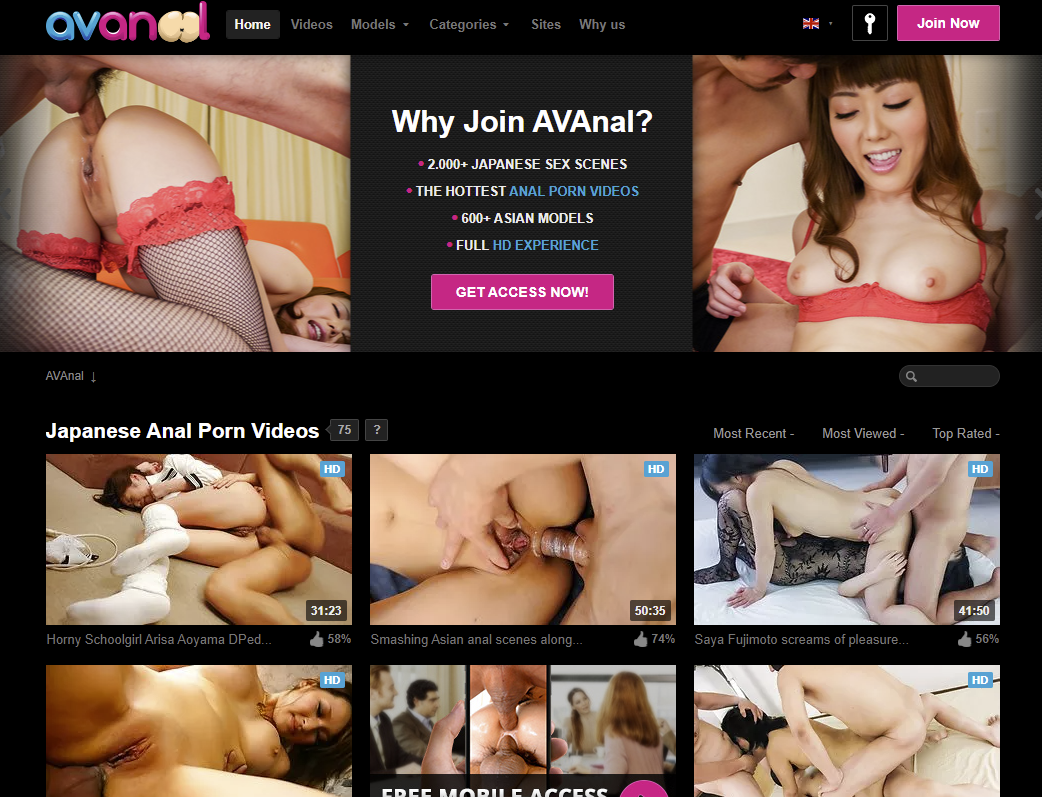 AVAnal
Avanal.com 101
Petite and cute Japanese hotties are always in demand, and maybe it's because of their cute exterior, or because they are horndogs in the sack. But these girls love to show off their amazing fuck talents, and sometimes it's hard to find videos of these ladies that are in full-length or uncensored. That's why the Avanal.com site has dedicated its page to bringing you sizzling videos of Japanese girls of all shapes and sizes that are not only horny 24/7, but also love to get their cute and tight asses inspected and stuffed deep.
Avanal.com is ready to show you a part of the porn world that is packed with steamy and hot videos that will settle your aching for gorgeous and naughty Japanese hotties. With this site under your belt, you will never have to endure uncensored or short Japanese anal videos again. Here you can sit back, relax and enjoy enticing Japanese girls and all of their kinks.
Learning the ins and outs of the Acanal.com site
Avanal.com has a dark background, so you can spot the preview videos on the home page right away. This site is easy on the eyes, with a little pop of color for the important 'Join Now' button. The landing page is divided into three big parts. The first or the upper part of the home page is dedicated to important buttons that will help you get around this site, or change between its sister sites if needed.
The buttons that will help you narrow down your search for the perfect video are the categories button that has whopping 28 different categories to choose from. Next to the toolbar of buttons, you will find the search bar. So If you have a video in mind or a specific type that you don't think the categories covered, here is where you can type whatever you would like to see.
If you have a chick in mind, the 'models' button shows you a drop list of all the models and actresses featured on this site. There are more than fifty hotties shown on Avanal.com, so surely you will find your new favorite Asian sweetie on this site. The big pink 'Join Now' button is where you want to click if you wish to become a member of the JAVHD family and gain access not only to the Avanal.com site, but to countless sister sites that cater to different porn categories, and all of them are featuring smoking hot Japanese ladies.
The other two parts of the home page are dedicated to showing you a little preview of different videos that you might find on this site. Avanal.com chose to show you two selections of videos, and if you like what you see, and you sure will, then the next step for you is to join the Avanal.com family.
How to become a member of the Avanal.com club
While you are scrolling on the home page, and you get a little taste of what kind of videos you can get if you sign up to be a member of the Avanal.com site, and you wish to know the process of joining then keep reading.
Once you locate the 'Join Now' button, which should be in the top right corner of this dark-colored site, with a simple click you will be redirected to the page that shows you different payment plans, so you can choose the one that works for you the best. There should be 4 different plans displayed.
The first, and the simplest option listed is the 3-day trial option. If you are not the type to commit to long-term subscriptions, and you feel like 3 days are more than enough to quench your thirst for gorgeous Japanese hotties, then for $1, you can get exactly that. The next two potions are monthly and tri-monthly based. So if you like to change your mind often, the monthly subscription might be the best option for you. After signing up, you are free to cancel your subscription if you don't want to be billed for the next month. This deal will cost you $39.99 each month.
The tri-monthly payment plan allows you to buy three months' worth of time on Avanal.com, and if you don't cancel before the three-month period is over, you will be billed for the next period. This plan comes out to $29.99. The last payment plan is the yearly plan, which allows you to subscribe for a full year of naughty Japanese chick's videos from the day you sign up. The annual payment plan gives you a discounted monthly price, so each month will be billed for $12.99.
Summary
Since gorgeous and petite Japanese hotties are in demand, and if you are tired of seeing only half of their stunning movies, or censored videos, then the Avanal.com site has a treat for you. This site is dedicated to bringing you steamy Japanese hotties in sizzling anal action, in every position possible. With this site you can binge-watch countless videos and see petite Asian sluts get their tight asses pounded and stuffed deep.
Avanal.com is a part of the JAVHD network, and if you want to be a member and watch more than 5000 published videos, you will gain access to many sister sites that are featured on the JAVHD platform. The signing up process is simple, all you have to do is choose between 4 different payment plans, and create your profile. After those simple, and quickly-done steps, you are free to roam the Avanal.com site and any other sister site you want.
With more than twenty categories and fifty featured Japanese models, your naughty fun is guaranteed. After browsing through the landing page and watching the preview videos selected for the home page, you will see why the Avanal.com site will give you a cure for your Japanese cuties deficiency. Check out these anal-loving Asian sweeties on Avanal.com now!
Pros:
4k Video
Hottest Japanese Models