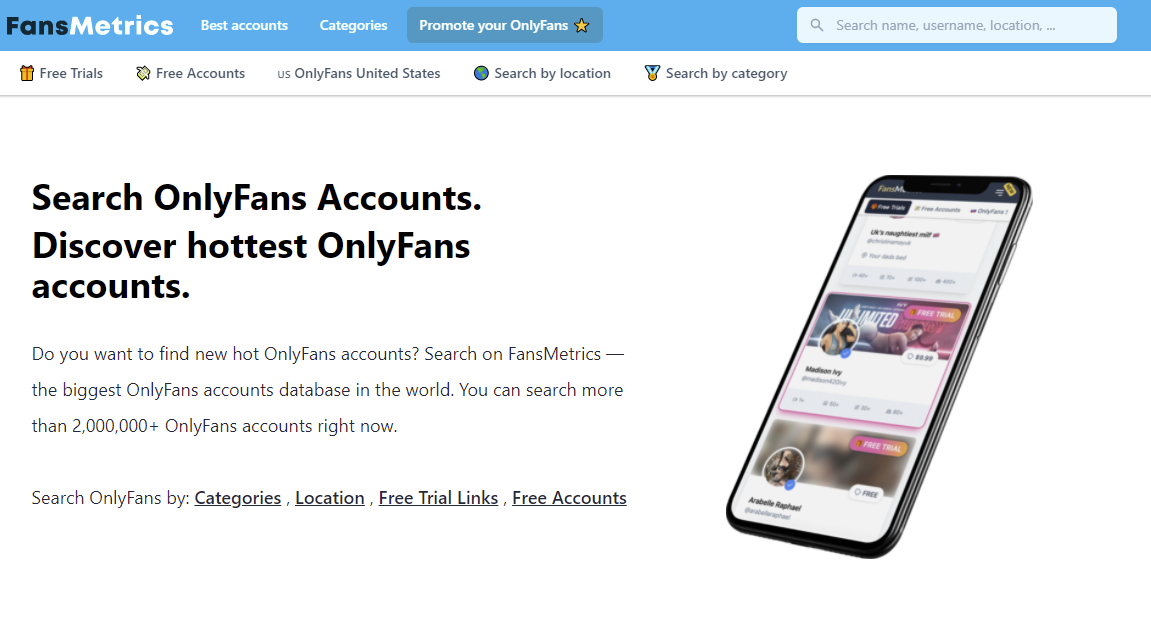 FansMetrics
Find the best models on OnlyFans
Looking up the best models on OnlyFans is not as easy as you might think. The search engine on the site doesn't really allow you to look up girls by typing in keywords or categories. You can only find girls if you know their names or if you are willing to go through recommended models. If you were wondering if there was a much easier way to find hot babes on OnlyFans other than finding them accidentally on TikTok or other social media, then you'll be happy to hear that there's a search engine that lets you find almost anything regarding OnlyFans.
Fansmetrics is a search engine that helps you find some models instead of going through a long list to find someone specific. Instead of looking at all the recommended models, you can search for them by using categories or keywords.
Get free trials
There are a lot of models on OnlyFans who charge for their adult content, but there are also babes who offer free trials. Instead of paying the full price right away, you can check out what they offer for a couple of days first. There's just no way to find these promotions on the site, but thanks to Fansmetricsm, you can check out the list with all girls who offer trials or discounts on their memberships.
Thanks to this search engine, you will be able to find girls who let you take a look at their content before spending your money. You can save a lot of money by not purchasing a membership that doesn't offer what you were looking for.
Browse all free accounts
Why should you spend your money on memberships when you can find smoking hot girls who offer their content for free? Instead of paying for the first girl you find, you can check out the list with all girls who offer their pictures and videos for free and check out what they have to offer. If you like what these girls offer, you can tip them afterward. This is much better because you won't spend money on something you might not even like. Keep in mind that even though these performers offer their content for free, you won't get full access. If you want to download something or are looking for something better than nude pictures, you will have to pay extra.
Use your location to find girls close to you
Some of you would like to see all OnlyFans models who are from the same country as you are. Fansmetrics made that much easier than it should be because you can select any location and all the girls who are from there will pop up. Instead of spending hours on Google looking for the girls from some country, you can do the same thing here by clicking only one button. You don't have to look for girls only from your country. You can select any of the given countries and find out where most girls live.
Pros:
Ability to promo your OnlyFans profile
60,000 daily users
Amazing Search Function
Online / Live Function
Breaking Down Of Posts
Search By Category
Search By Location
Free Account Search
No Ads