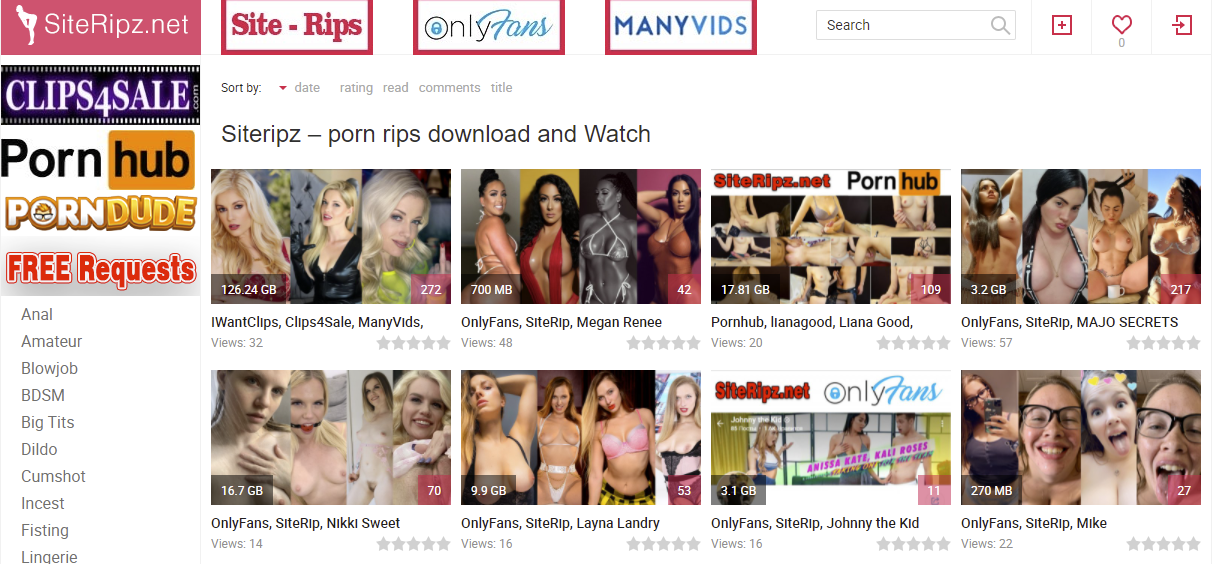 Siteripz
This site is strange and weird but awesome at the same time. They don't get much traffic and the site looks like dog shit but it offers something completely different than all the other onlyfans leak sites. You're probly wondering "if its so good why is it so far down the onlyfans top leak site list?". Well my friend, it is because Siteripz will actually rip all creator sites like onlyfans , manyvids clips4sale etc... and then put them file by file list on their downloads page that is located under each model.
This is a horrible way of doing leaks but that's not the only thing they do, to download the files without limits you will need to pay their download service. Wait, ok you do get 10gb transfer free and you do have to sign up to there sketchy downloader service but still, you will burn through the whole thing so fast. Not to mention, the files are not in folders or anything nice and orginized, they come in shitty little lists. *Correction, they do have a .zip or .rar file you can download with some images in them.
The site is awesome, they have tons of rips and the categories are awesome and the server is super fast but, the way they go about disrupting the Onlyfans leak files is trash. I know you have to make some money but god damn man, this shit is just so annoying to use even if you pay! AND I DID PAY!

Is it worth paying? no, you can find way better service for leaks like Sorrymother or Leakedbb and everything comes nicely packed in a mega file or cyberdrop etc.. and updated daily. I would wait until they get off that shitty downloader service.
Pros:
Thousands of rips
Onlyfans Rips
Manyvids Rips
Pornsite Rips
Shemale Rips