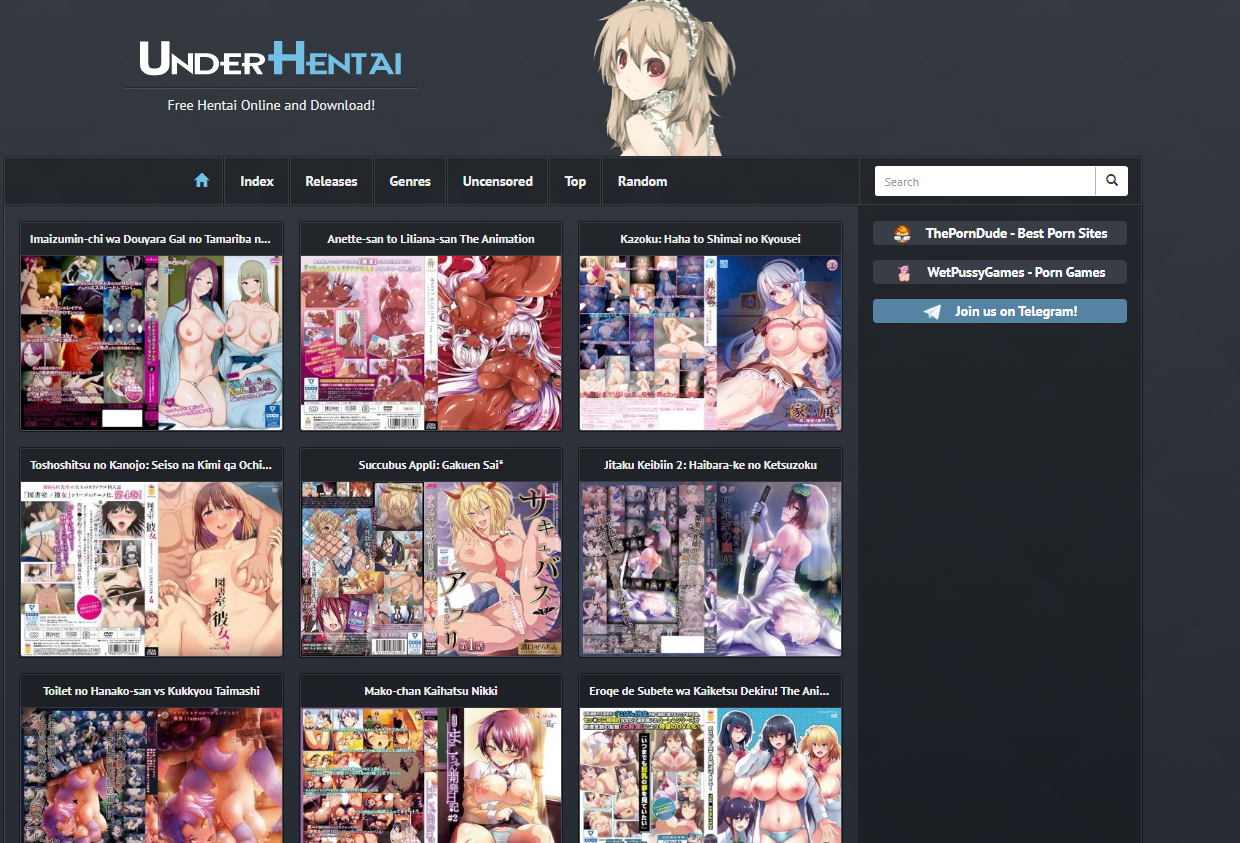 UnderHentai
Under Hentai is a cool little place to download and stream the latest hentai releases from Japan created by some top quality professional studios. Studios like Antechinus and Pink Pineapple are Japanese studios that produce content way better than the shit you'll find on amateur sites, and you'll find more than you can handle here.
Videos are neatly categorized by studio, genre, the availability of subtitles, and more. Under Hentai also offers a search bar if you know what you are looking for, and there is a ton of content to browse through.
The great thing about UnderHentai is how underground it feels. When you enter the site, it feels like a private club where you can download and watch professional releases for free, which the studios probably don't want us doing if you ask me.
The website does follow strict DMCA guidelines, so it will take down releases if the original creator tells them to. But the studios are so small and so Japanese, that I think they just let this content flow through the cracks. This is awesome for us, since it means we get some grade A poonani free of charge!
Clean and easy filesharing
UnderHentai.net has a really simple website, making navigation a breeze. On the other hand, the site may be too bare bones for some people, since all there is are videos with no pictures, community forum, or anything else. Videos and ads are all you'll see at UnderHentai.
When you first enter, you'll be greeted by a video gallery on the left, and some ads on the right. Unless you're a hardcore hentai lover, you probably won't recognize any of the titles or series. I know I didn't. Most of them are Japanese titles aka moonspeak, so just focus on the titties.
One thing you will notice is that the videos are professional releases. The quality of the art and the design of the boxes makes it obvious that this shit is being sold in stores over at Japan. The thumbnails may seem kind of small, so you may want to zoom in to really see the art as you browse.
Along the top of the page, you'll see the major categories, which include new releases, genres, an uncensored gallery, the top videos, and random videos. If you want the cream de la crème, then head straight to the "Top" category, although you might just want to go to the uncensored gallery if you don't want any bullshit.
When you find something you like, click on it and you'll get sent to the video's page. You'll get the basics like the title, the box art, the studio, what genres it belongs to, and a chance to vote on its rating.
Below is the important shit, which are the download links. You'll get a list of each episode, how many megabytes the video is, whether there are subtitles or not, and whether it's censored or not.
Speaking of censorship, those goddamn zipperheads made it illegal to show uncensored twats over at Japan. So a lot of this shit is censored. I can't believe that those Orientals still deal with the pixelated crap, damn commies…
Anyway, you get the basic information, followed by download and stream links. All the videos are available on Megaupload, Uploaded, and BitTorrent. My recommendation is you check the torrent first, since it has the highest potential to be fast, but if there are no seeds then move onto the file hosts.
Finally, at the end, you'll get some comments. Sadly, there isn't a lot of activity here, but sometimes you'll find some true veterans of hentai discussing shit here. I don't know what the fuck they are talking about most of the time.
Videos and only videos
Like I said, this site is 100% dedicated to hentai videos and ONLY hentai videos. In today' s age of technology, it's surprising that UnderHentai doesn't try to expand. But I will say that UnderHentai serves hentai videos very well. A bang-up job.
Speaking of the genres, there's a nice mix here. We got shit like tentacles, succubus, vampires, yuri (gay shit), and even lactation. Hentai really does have some funny ass shit.
Do you know about Ahegao? Ahegao is hentai porn dedicated to zoom-ins of a bitch's eyes rolling around and her face melting in pleasure as a big stiffy shoots up her hole. This is what I call art.
The content goes back several years, all the way back to 2012. It looks like that's when this site got up and running, although the shit from back then doesn't compete with the recent releases. If you're looking to do some research on the evolution of hentai videos, UnderHentai is actually a great place.
What I Like
This is one of the best places to watch hentai videos, bar none. True hentai fans should definitely seek UnderHentai out because there are recent releases, the quality is great, and you can stream all the shit with minimal hassle.
Have you ever tried to watch hentai on mainstream sites like XVideos or PornHub? It's fucking garbage. So much of the content is shitty amateur stuff, or the videos are really short, or the movies are very old. There's so much 1995 looking hentai anime out there, it disgusts me.
So that's where UnderHentai fits perfectly. First, most if not all of the content is from legit Japanese studios, so the quality is high. There are also enough videos with subtitles, so you won't be completely lost if you can't understand Japanese.
Second, the downloading and streaming is really reliable. I never had any issues streaming directly from UnderHentai. When it comes to the downloads, it's great that they offer BitTorrent as well as two file hosting sites. I always prefer torrents if available.
What I hate
Even though I really like UnderHentai, there are many issues.
First, there is no Rule 34 content. I don't know if this is because all Rule 34 content is amateur (due to copyright), or because UnderHentai refuses to host hentai based on popular characters, but either way, you'll be shit out of luck if you want to jack off to Naruto bitches.
Second, there are no good preview images. I couldn't find any way to see sample screenshots or even a sample video, other than the box cover they show. So if you come, you may want to come prepared to do some extra research on the shit before you download.
UnderHentai also doesn't have an easy way to browse by brand. You can't directly search for a studio you want to check out. There is a workaround where you go to a video that was made by the studio, and then from there, you can click on the studio name, which will lead to a list of their work.
Finally, UnderHentai has the usual issues of annoying ads. In addition to the banner ads on the main pages, you'll also run into some annoying ads when you are streaming the videos. Then again, everything is free so can I really complain?
I also want to remind you that there are ONLY videos on UnderHentai. That means there are no games, no pictures, and no comics.
Some easy rooms for improvement
I think UnderHentai does its job well, but there is a lot of room for improvement. UnderHentai should give more previews and samples on the video pages, so people get a better idea of what they are going to watch.
It fucking sucks when a box art looks fucking amazing, but then when you actually watch the video with your dick out you realize its shit. This is why samples are so important.
I also think they should expand to comics or at least pictures. UnderHentai already has a great search and browse layout and is also used to hosting sites like Bittorrent, Megaupload, and Uploaded. I think it would be natural for them to offer hentai comic downloads as well.
They could also make some effort in establishing a community. Establishing a forum or community would go a long way in getting more discussion and reviews up on UnderHentai, which will make it easier for guys like me to find that grade A cartoon pussy action without looking video by video.
Great site, but unfamiliar territory
Unless you're a true hentai fan, which by the way nobody should be, you probably won't recognize any of the content on UnderHentai. While the videos are categorized into genres, these are all original stories and characters.
That's the one tough thing about browsing UnderHentai. Since everything is new, and all the videos are long, you really need to dig in to develop an idea of what you like and what you don't like. It also doesn't help that a lot of videos are only in Japanese.
Luckily, exploring the porn feels great since all of it is so high quality. So even though you start off the video wondering "who the fuck are these bitches" or even "what the fuck are they saying", when the porn comes rolling in you'll be glad you stuck around.
Pros:
Thousands of Videos
Hd Streaming
Fast Servers
Lots of genres