Reality Kings review
back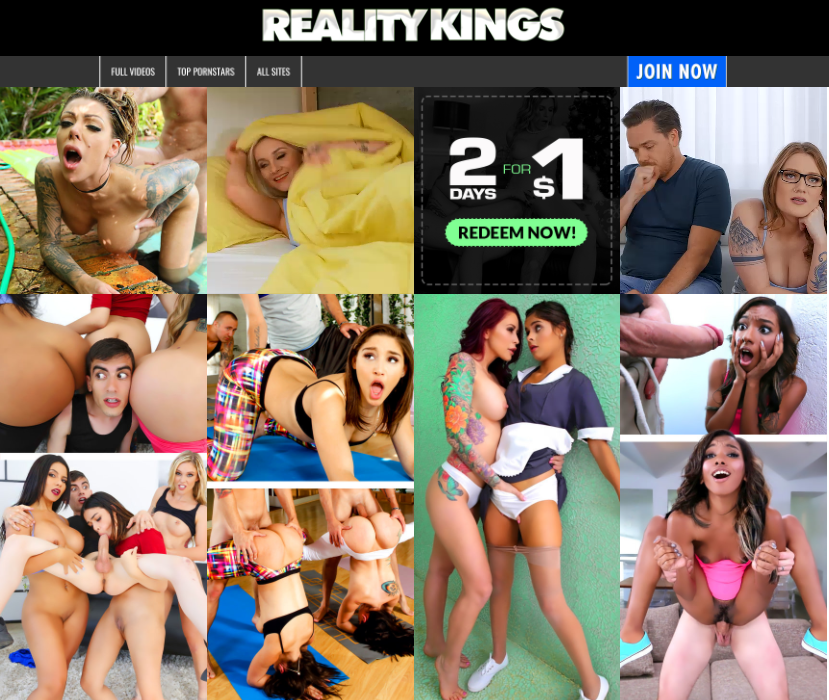 Reality Kings
Reality Kings -



You've heard of RealityKings (rk.com). As much as I like to pretend my dirty little corner is the center of the online smut universe, there's almost no way you've found me without first passing by that landmark of Internet porn. It all started in a college dorm room nearly twenty years ago and has grown into a fucking empire of sex movies. I'm talking tens of thousands of full-length, HD videos, spread across a huge network of adult websites.
Look, I know you're a bunch of cheapskates. So am I. We all want the best bang for our porno buck. With so much free spank material out there, why would anyone still sign up with a paysite like RealityKings.com? It all boils down to the high quality and high volume of the content.
New Pussies, Featured Titties, Trending Booties
The guided tour on the landing page gives you a pretty good idea of what you can expect. They've got New Videos starring Ebony babes stroking cock and Asian girls eating it. The Featured Videos feature girls flashing their tits in a gym and having threesomes on a private island. There's also a Trending Videos section, with sluts like Rachel Starr and Honey Moon doing basically everything they can to make your dick hard.
Below is a list of just some of the sites you get with your membership. Watch 8thStreetLatinas getting smashed, BigNaturals bouncing, or tune in for the sexy hijinks of BadTowTruck. That last one actually makes me want to quit this review gig and drive around in a tow truck all day. The screengrabs on the sample page show babes sucking dick, riding it, and squirting all over the place instead of paying cash for a tow.
There are actually only eleven videos on BadTowTruck. The downside to having so many sites under their umbrella is that some of them have gone stale. There are updates across the current sites every day, and most have hundreds of videos to get you going while you slam the salami. Mike's Apartment, featuring the sexy adventures of a European stud named Mike and his rotating cast of horny roommates, has more than 800 full-length clips.
You get more than fifty different sites with your Reality Kings membership, including CumFiesta, their site that started it all. The full list has something for everyone, from MILF Hunters to fans of luscious ass. A couple of kinkier interests are here, but not many: there's a tranny site and a CFNM fetish site. The image for In the VIP has a bunch of club girls doing a human centipede up a flight of stairs, so I'm going to have to come back for a closer look.
At the bottom of the tour page is a row of some of the current Top Rated Models. Right now, I see Valentina Nappi's succulent butt and Brandy Talore's massive breasts among them, so I know I'm in for something good.
Christ on a goddamn cracker, I'm dripping and I'm still just looking at the RealityKings tour. Let's log in and take a real look before I pop and have to start the whole thing over.
A Lot of (Gang) Bang for Your Buck
Before you sign up, look out for what specifically they're selling you. The default option says it's $9.99 a month, but the fine print tells you that's only if you pay for a year upfront. You can pay for a month or three at a time, depending on your budget. The two-day trial is worth the buck, but don't forget to cancel if you don't want to see that charge on your statement every day from now until you die.
RealityKings used to give you a certain number of free video downloads every day with your membership. If you were hoping to subscribe for a month, load up your hard drive, and then beat off for free forever-after, I've got bad news for you. Downloads cost extra now. The good news is that if you pay $14.99, you can download all you want. Work that into your little plan, but remember that even the biggest stash will go stale if not refreshed from time to time with new porn.
Once you're signed up and get logged in, they first drop you onto a post-login page. This is an attempt to get you to spend more money on more porn. If you've got unlimited financial resources, go ahead and shop around, but for now, I'm clicking where it says CONTINUE TO REALITYKINGS.
The actual landing page when you get in is pretty busy. Big, sliding images at the top offer links to some of their hottest clips, a couple of ads for further premium content like download capabilities, and a link to browse the GFLeaks network, whose scenes are now included with RealityKings.
Below the slider is a selection of links to Top Scenes from GFLeaks. I hovered over a pic of a cutie wearing glasses, cum all over her braces, and got a preview of the sex inside. She plays a little basketball before playing with some cock, taking it between the tits before getting her tight pussy hammered.
Keep scrolling and you get more quick links to Recent and Trending videos, each represented by an image from the video that will make you want to stroke it to each and every one. Alas, there is only so much time. Don't let the choice paralyze you, like when your girlfriend browses Netflix for three hours instead of picking a fucking movie to watch. It's as simple as point, click, and stroke.
Below the vids on the main page is a list of porn categories and pornstars to look at. Click something or someone, get more of it. Got it?
I hope you're ready to move on to the actual videos, because I am definitely ready to get back to that slutty little four-eyed brace-face I mentioned a minute ago.
Let's Watch Mila Fuck
The video player is a crisp, refined piece of Internet engineering. RealityKings has been around a long time and made a lot of money, so you better believe they understand how to build a video site that works. I jumped around to different spots during the 34-minute duration of Deep Strokes, starring Mila Hendrix, but didn't run into any buffering issues. A trailer and an extensive set of stills are available from links above the video.
Even though Deep Strokes is tagged with a GFRevenge watermark, the video plays on the central RealityKings player, as do all videos linked on the site. Keeping everything in one location like this makes it easier to search across sites, instead of surfing all over the 'net trying to find the girls and sex acts you like to see.
For example, if I pull up the Description & Categories tab, I can click on categories like Blowjob, Blonde, and Facial. Considering what brought me to this video, I took a look at what else was filed under Geek/Nerd. I found a teen cock-lover with glasses on Teens Love Huge Cocks, a Latina with glasses eating dick on 8th Street Latinas, and a brunette with glasses giving blowjobs on Street Blowjobs.
You've got your standard set of buttons like on most video sites. You can Like them, Dislike them, Save them for later, or Download if you've unlocked that feature. Beneath those buttons are a more useful feature, an index of sex acts by time.
Let's say I'm in a hurry to watch young Mila put her boyfriend's dick in her mouth. I can skip the basketball game and just click one of the two scenes marked Blowjob. When I'm about to blow my load, I can click Cum Shot and pretend I'm blasting it all over her pretty face.
If you really like the talent you're watching, you can click their name and see if they've got anything else to watch on the RealityKings network. Sadly, Mila Hendrix can currently only be seen in Deep Strokes. I clicked Favorite on her profile so I can stay on top of who's staying on top of her.
The worst thing that anybody can say about RealityKings (often misspelled as "realty kings") is that it costs money. So do most good things in life, so what's the problem? They're putting out some of the best smut in the game, and offer more than enough content for your dollar. If you like whacking off and can spare a few bucks, it's definitely worth a look.
Pros:
Best Porn Site Ever
4k Streaming
Hottest Models
Best Video Player