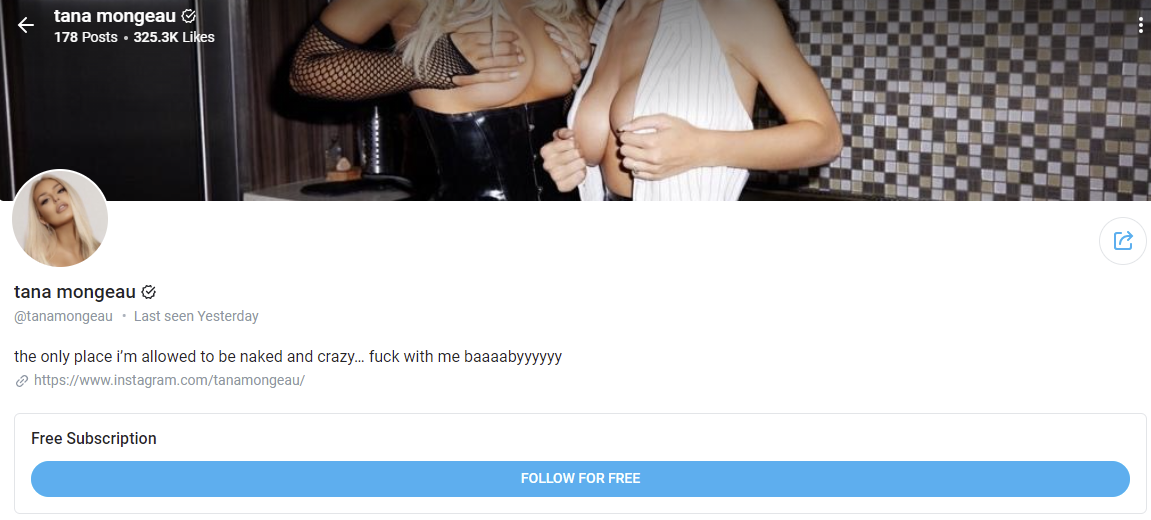 Tana Mongeau
We are going to review Tana Mongeau Onlyfans. Is it worth the buy and what type of content is she posting? Is it just hype? We will get into everything so you are well informed if its worth spending money on this youtuber. You can get her onlyfans here.
If you're not familar with the youtuber and vlogger troll known as Tana Mongeau (yeah i don't know how to pronounce it either) She is known for being a troll and having a really shitty spin off of youtubes "vidcon" known as "tanacon". She Is also known for photo shopping the ever living fuck out of her instagram pictures to where people don't even know if that's her in the picture or not. Sure they have blonde hair but is it Tana?
Tana Mongeau has rencetly joined all the other thot's all over the world to start an Onlyfans account. Here is her link if you're lazy. She is sitting at 5.4 million followers on instagram so you know she wanted to squeeze that extra money out of the few dudes who know about her from sucking off gamer e-boys from the youtube circles. That 18-22 year old demo pay's money too. Look at the Faze clan guys. They are killing it.
I am getting off topic, lets get on to Tana Mongeau's Onlyfans Account. As you can see from the image above its actually free. This in its self is a good strategy and is different from the girls who are only known for onlyfans. They want money up front for access. Tana Mongeau makes so much money from youtube she doesnt need the extra $5 I guess or its a strategy to tease everyone with potential nudes. It seems to be working because if you look at her onlyfans interactions she will get thousands of "hearts" / "likes" on each post.
Where she makes her money is in "tips" on the free posts like one above. Some simps gave her $17.50 for just posting that picture. Where she makes her real money and the real scam is to unlock the "premium content". She will set the rates for $30-$40+ to unlock these videos or pictures that are NON NUDE! Why the fuck are any of you paying for non-nude instagram pictures on onlyfans. That's fucking crazy.
The content that you're getting is average at best. Her first video is of her just talking for two minutes smoking a blunt and show a tiny bit of her pierced nipple. That's basically the most dirty picture she has. The rest are old recycled roof top images she took with her friend in a thong. Her onlyfans is honestly worthless. If you're looking for her to take the road of Clarakitty aka Claralittlelegs or whatever from bashurverse. Where she puts stuff in her ass and fucks those weird robot dildo machines then this is the wrong chick to be buying "premium content from". Skip the whole mess. Please and just wait for her leaks.
Cons:
Scam
2nd Tier Pay Wall
Never Posts Anything Worth Fapping Too
She Is Hard To Listen Too