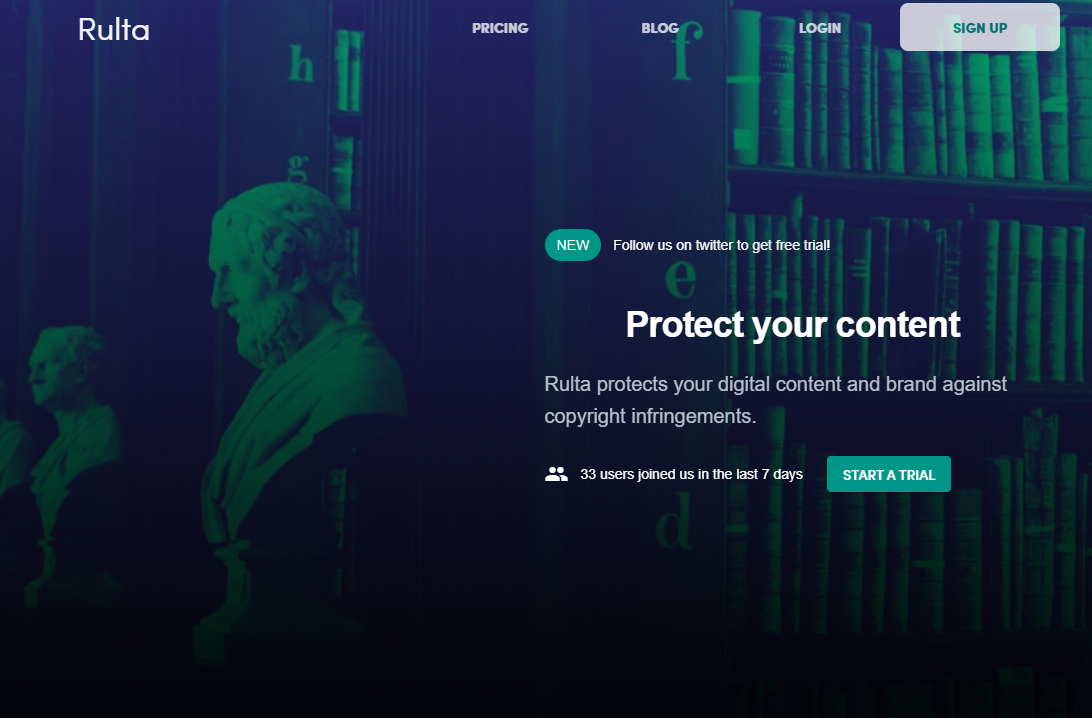 Rulta
Secure your content and remove illegal copies with Rulta
Naturally, if you put a lot of effort into creating some kind of content, whether it is a video, music, writing, or something else, finding it illegal somewhere on the internet and seeing someone make a profit instead of you can bring all kinds of emotions. In order to avoid such situations, Rulta.com offers services that can help you take down illegal versions of the content that you created.
The homepage could be improved
It is quite rare for us to use this term, but the homepage looks as generic as it can and very unappealing. Upon visiting this page, it looks like something that will take you to a Kickstarter page along the way, and that is definitely not a good sign. However, while the site is certainly not the best looking, it is actually very easy to navigate, and a lot of content creators tend to use the services the site has to offer.
What can you expect from Rulta?
Similar to other sites that offer protection from cyberpiracy, Rulta offers piracy detection and reporting from various file hosting services, sites that revolve around video streaming, search engines, social media, and even peer-to-peer that many other sites do not include in their services as they are usually the hardest to get rid of.
Remove illegal copies with ease
As Rulta.com has good relationships with various hosting sites, taking down illegal copies is easy and quick, which can be very crucial to certain content, especially new releases, since fresh content is the one that has the potential to give you the biggest income, and if it can be found somewhere else, that is the income you are losing.
What are the plans available?
While Rulta is used mostly by professional models that post their content on onlyfans, chaturbate, manyvids, myfreecams, pornhub, patreon and so on, pretty much any kind of content creator can use Rulta for some kind of benefit, which is not that common when it comes to piracy protection, and hence the various number of programs.
All plans come with options where you can pay for them monthly or quarterly, which gives you a small discount, and they essentially offer the same thing, but if you happen to be someone who runs multiple brands, then the plan that covers multiple usernames is the one you should go for.
The beginner plan which costs $49 per month covers a single username and weekly reports, while the $99 pro version gives daily reports. Premier for $129 per month gives daily reports for two usernames, and the legend plan for $249 covers four usernames along with daily reports.
In essence, if you only want a single username covered, then the pro package is our suggestion as the difference between daily and weekly reports can be very important in some situations, but this of course depends on how often you create new content since the newest content is the one that is most prone to piracy and lost revenue.
Pros:
Amazing back end
Daily Updates
Great Design
Cons:
Way too expensive
Horrible Support once they have your money