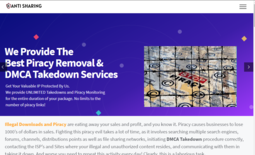 Anti Sharing
Protect your content and increase your sales
While it is known that all publicity is good publicity when it comes to created content, there are certain moments when enough is enough, like when it comes to piracy. All pirated content is essentially something where you could be making a profit, whether through purchases or through ads that you roll on the site where you are posting your content, and if someone is pirating it, they are basically stealing money from you.
When it comes to antisharing.com, it is a site that offers services that can put a stop to illegal downloads and piracy in order to increase your sales and profit from your content. The content protection that the site offers works mostly on the standard DMCA copyright law, which is something that you might be familiar with already.
How does it work?
While sites like antisharing.com usually work by offering services where they do most of the work for you, in essence, antisharing.com does not really do that, unless you go for the more expensive packages. Overall, however, they will take down the content that is being stolen from you if you inform them about it, but honestly, there are better ways to do this.
Overall, the site offers a couple of different services that sound like they cover different kinds of products, but they essentially work on a similar basis and use the same wording. Digital product creators, software developers, book authors, internet marketing courses, personal video removal, theme or plugin developers, all of these things essentially have the same keywords when it comes to protection, which is creative content, and the site advertises more than there actually is. A bit of a red flag.
What plans are offered?
The starter plan which costs $199 for a single product offers a monitoring service by an advanced AI for a single month. The number of takedowns is unlimited, and they will inform you about the content that the AI detects on the internet. Since the plan is limited to a single product or brand name, it does not sound very good, but in some cases, it can be enough.
The other plans which are called silver, gold, and platinum, are essentially the same thing, with the only difference being that the monitoring period is prolonged to 3, 6, and 12 months. It is a bit difficult to understand why they are called different plans when the only difference is a subscription period, but since the price drops drastically on a monthly basis, that is alright.
Slightly overpriced for the services offered
When it comes to the services that antisharing.com offers, the pricing is a bit too high for what it is trying to cover. There are services out there that tend to cover more sources for illegal content than what antisharing.com says, and while they will essentially remove everything you report personally when it comes to the scanning AI which monitors your content on the internet, that is often not enough, which is why many sites similar to this one also offer manual scanning.
Pros:
Great Support
Well designed site
Back End Support