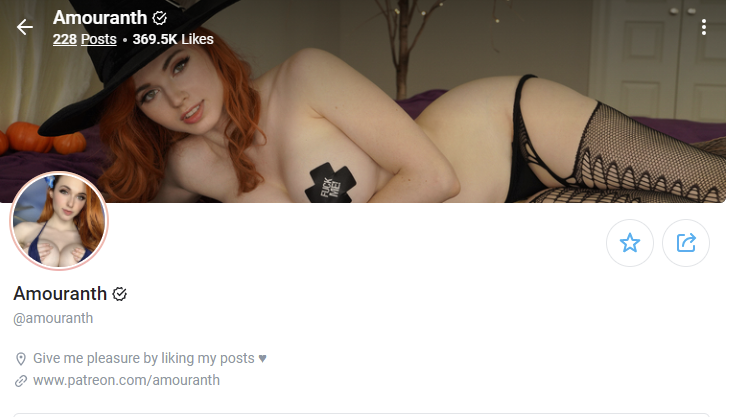 Amouranth
I think most of us who spend a huge part of our time online lurking , talking shit and looking for shit to jack off too, know of Amouranth. If you need a place to star, this is her Instagram profile. We will do a quick little break down to let you know if her onlyfans is worth it or is it another bait and switch.
There are tons of Amouranth leaks out there from her patreon content. That's where all the twitch thot's started out being a paid thot on. Now that patreon is basically dying and all the thots have come to onlyfans. It was only a matter of time before the ultra twitch thot came over too. To me Amouranth is busted as fuck and looks like a dude, She also photo shops like crazy. Her ass does not look like the picture above at all. If you don't know who she is, she is basically one of the original twitch thots. The simps started simping for her on her twitch live stream. Where she would cosplay all sexy and do asmr and basically dance around for tips. She is also known to lie about having a boyfriend or husband to thot around pretending her biggest simps will someday get to nut in her. As of writing this she has over 2.3 million followers on just her instagram account. She probably has around 10 million across all platforms.
K, lets get into her onlyfans and see if its worth it or not. Before I dive into it lets back step and talk about her patreon account because basically its the same thing. She would basically put "vlogs" on her patreon with tons of cosplay sets that were really boring and the same poses over and over and nothing was nude. The videos were kind of the same and she one time dude an hour long asmr stream sucking on one of those huge big dragon dildos but thats honestly the closest thing Iv seen to adult. All her "premium" content is vanilla and trash as fuck. That's why her onlyfans is basically the same as her patreon and she will treat is as such.
Her prices are also a little high, for someone who does not post nudes or have really any content you'd want after just a few days of scrolling through everything, $12 is a a lot! She does a lot of direct message premium spam videos. She will get decently close to being naked but nothing with pussy or actual bare tit. Again, bois DO NOT BUY. This shit is trash. Maybe she has a bunch of nudes and stuff stashed for when she gets old and when everyone forgets about her she will start posting those. I don't know, but for $12 a month you can get a hand job from the local crack heads at the park and maybe even a hit off some shitty pinner weed from her pimp. THIS IS TRASH! move on!
Update:
she has been posting more and more lewd content. Vibrator and pussy play videos.

Pros:
Twitch Streamer
Nice Body
Weekly Updates