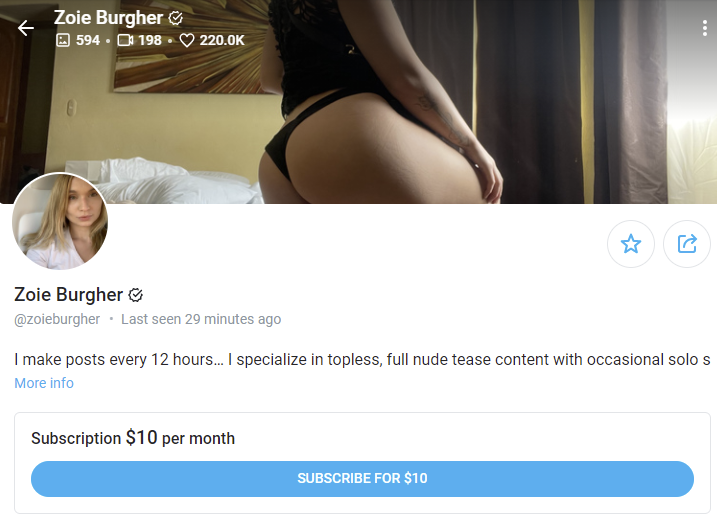 Zoie Burgher
This is the onlyfans review of the original twitch thot turned youtuber thot turned retired thot turned pornstar'ish turned premium snapchater turned full time onlyfans bbc taker turned mom turned onlyfans thot again. That's a lot of thot'in. You can check out her onlyfans here.
When twitch was just getting popular the age of thots came with it and Zoie Burgher was the creator of the thot's on that platform. She would basically be a whore for 12 year old's and twitch donations. Twitch allowed it because it helped them bring traffic to the site. They eventually banned her and its been a downward spiral to spreading her butt cheeks for a living. She did try starting some reality gaming house thing called luxe but that was a major fail.
So what is she up to now? Well she was taking some bbc and had a kid but now she is back making porn content full time on her onlyfans account and it looks like she is doing pretty good.
For a thot in today's world, she is actually pretty reasonably priced. However you will get the 2nd tier paywall for longer content but here is the thing with Zoie, she does everything! takes it in the ass,squirts,eats ass and deep throats! She also does lesbian videos with her friends or other lesser known onlyfans models looking to get some new paying simps. To be honest her onlyfans is worth it if you're into her. Her tits are huge and she does some disgusting stuff and her asshole is kinda cute too when she does anal. If you have the extra $10 then you should get it for the month to just check it out. I give it a 7/10.
Pros:
Posts A Lot
Does Anal
Lots Of Content
Cons:
Her Body Is Kinda Gross
She Cant Film
She Cant Edit
The Dick She Sucks Is Gross