Cam Girl Leaks review
back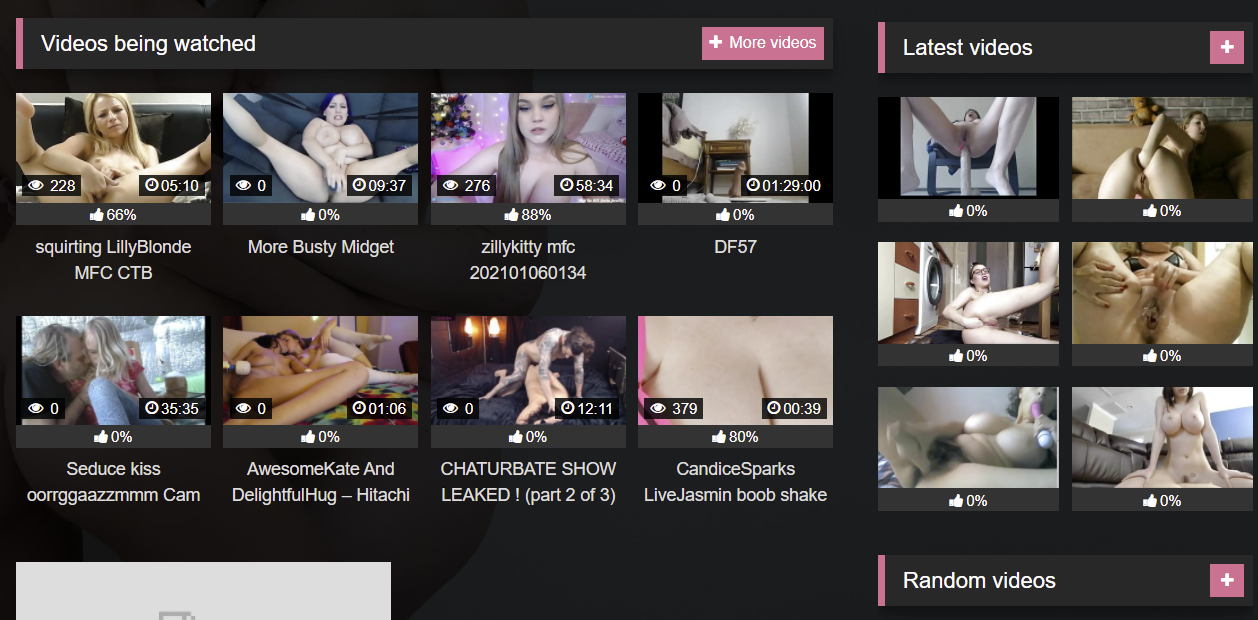 Cam Girl Leaks
Camgirlleaks.com 101
Camming took the porn industry by storm, showing that classic porn movies are not the only way you can get satisfied online. But as more and more creators found ways to be naughty from home and make a living out of it with camming, the demand for these hotties has been increasing ever since. Now you can mostly get a dose of your favorite camming models if you pay for it. Even though some streaming platforms are free, all the girls appreciate your gifts, so it's safe to say that if you want to take care of yourself with your favorite camming model, you have to open your wallet while unzipping your pants.
Camgirlleaks.com can help remove that obstacle from your life and bring you hot and steamy live streams for free. You can scroll and explore this site, while watching live streams of gorgeous cam girls, studs or even couples that weren't available to you. This site showcased clips of many popular camming creators, so you can sit back, relax and choose between a sea of videos that feature hotties of all shapes and sizes. Camgirlsleaks.com makes it easier for all die-hard fans to keep track of their favorite cam models, or find fresh faces that bring new spices to the camming scene, cost-free.
The layout of Camgirlleaks.com
At first glance, Camgirlleaks.com looks simple, with a soothing grey color that allows all selected videos for the homepage to rest on it. The background of Camgirlleaks.com is a picture of two lesbian hotties, in a warm embrace. While the landing page holds the most-watched videos, the longest streams, and random suggestions, it is also your starting point. On the top part of this site is where you will find the search bar. If you have a creator in mind, then the search bar is your best friend, and you will spot it easily. Under the search bar is the toolbar, where narrowing down your search should start.
Categories and tags buttons should be your favorite tools, for those who are picky and have a certain type in mind. Tak the categories and tags pages as suggestions, if you ever get stuck and you are not sure what you want to see. These pages will help you get back on track. All eleven categories cater to one fetish or kink, and choosing one, will get you one step closer to clicking on smoking hot videos, and enjoying your night.
If the categories are not specific enough for you, and your taste, then the tags button will take care of you. The categories bring you countless videos under one type of girls, but the tags list brings you more possibilities of finding something brand new.Countless tags are listed on this page, so you will either find the type of video you are looking for, or you will try something new out.
The toolbar holds a few more buttons that should entice you, and bring you new pleasures. The first one is 'Onlyfans leaks list' and if you feel drawn to click on it, you will be redirected to a huge list of porn sites that cater to different types of content. If you have a problem in finding good porn sites that cater to your likes, kinks and fetishes, then the 'Onlyfans Leak List' will give you all the info about different types of sites to keep you entertained for life. The next interesting button is 'Tiktok Nudes'. Yes, you read that right.
With the rise of social media, more and more girls have been testing the waters to see how naughty they can be online, and attract followers and reach a bigger audience. Hotties love to tease, and with social media networks who wipe out naughty content, some girls still find a way to post their nudes for all the world to see. Lucky for us, a lot of girls love to share their gorgeous nude bodies online, and this button takes you to a page where you can feast your eyes on shameless hotties and their tiktoks.
The last button in line is the gaming switch. So whenever you feel like playing a dirty porn game, one click is standing between you and anime cuties that can make your night cum-worthy. Camgirlleaks.com has an easy-on-the-eyes background, and a simple layout to make you focus more on the content than wasting your time endlessly scrolling through unsorted videos.
Camgirlleaks.com - free or foe?
Camgirlleaks.com is a free site, so you shouldn't expect to have restricted access to videos unless you pay a fee. This site is here to tear down the payment wall and bring you free cam girl videos, that would've emptied your wallet before you even got hard. But with that in mind, there are a few pop-up ads that will distract you before you can press play for your videos.
Pop-up ads can be slightly annoying, but considering that they are essential so you can have all of these streaming videos for free, with unlimited access, it seems like a small price to pay. Pop-up ads will follow you all around the site, but they always have that little 'x' and they will be gone, same as they appeared. That is why, when you get to Camgirlleaks.com you will be greeted with a lot of ads on the sides of the site, and when you click on videos, or switch between pages. But stay patient, click those away and you are free to watch the whole video uninterrupted.
Final word
Camgirlleaks.com is a free site, with a few pop-up ads that bring you short, and full-length videos of smoking hot cam models, that have already aired. This site breaks down the pay-wall between you and sizzling original content. The categories and tags can help you a lot while searching for your favorites, and exploring new options. There is something for all of you fetish-inclined folk, in every color, shape, and size. Check out Camgirlleaks.com now!