Camshowdownload review
back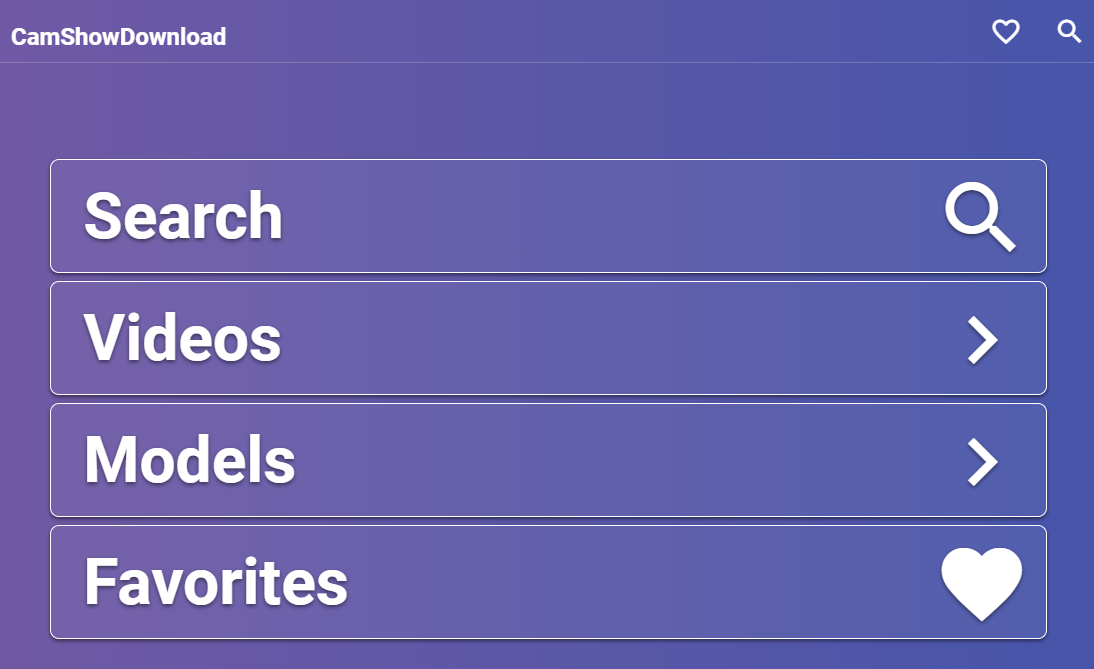 Camshowdownload
Watch Live Webcam Videos And Skip The Boring Parts
If you love live webcam shows but you hate sitting through the boring parts where nothing is happening, then CamShowDownload is the perfect site for you. Here you can download live sessions from various models from different cam sites and skip through those boring parts and jump straight into the action.
Navigating is as easy as it gets
There are not many sites like this one that gets straight to the point. Upon entering the homepage, you will have four buttons that you can use to navigate the site, and that is it. The first one is the search bar, where you can search the model name, which can be from pretty much any major cam site. The second one takes you to the recently uploaded videos, and the third gives you the list of models in the database.
The fourth button is the favorites button, which does nothing at first, but as you use the site more, you can add models as your favorites, which will make finding their content in your future browsing sessions much easier. This is a great feature, as it allows you to have more time watching the videos than browsing for them.
Thousands of hot models from various cam sites
Like we said before, there are quite a lot of models on this site. Of course, not all of the models have their videos here, but pretty much all of them that have some kind of viewership do. If your favorite model has been camming for quite some time, you do not have to worry about not finding her videos on the site.
All of the models also have an incredible amount of videos, and the ones that are live often, have a significantly bigger amount than other ones. Note that some videos are only clips from certain sessions, but if you are looking for a moment when the model is wearing a specific outfit, this makes browsing much easier.
Watch and download all of the videos for free
Considering the quality of the videos and the number of uploads that occur daily, one would think that this is a paid service, but everything is actually completely free. As you enter the model's page, you can scroll down through all of the videos available, and you will be able to see a small previous of what the videos are all about. Besides the previews, there is also a screenshot with timestamps of the bigger video version.
To download the video, you will have to do it through a different site, which does come with some limitations, as it is basically a file upload site. Your downloads will be somewhat limited if you are a free user, but you will be able to download pretty much everything. In case you want to download things at full speed, you can register for a membership that starts at 11.95€ per month, and goes down in price for longer plans.
Pros:
Thousands of videos
Download ASAP
Amazing On Mobile
Cons:
Slow Downloads
Paid Downloads