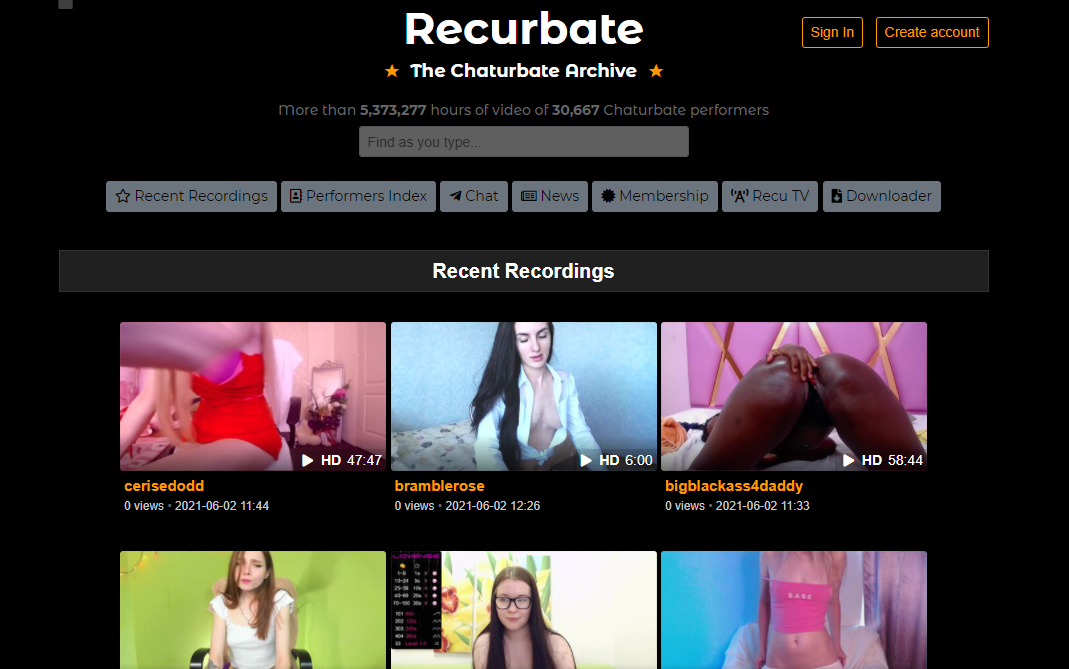 Recurbate
Never Miss Out On Chaturbate Live Shows
Watching live sex cam shows is certainly a great thing, but there are times when we cannot make it to our favorite model's live session or we want to experience it once again. At such times, Recurbate is the perfect site to visit for all of the hottest models that you can find at Chaturbate.
Thousands of videos with constant uploads
Of course, not all of the models from Chaturbate have their videos stored on the site, but, the ones that have at least some kind of viewership certainly do, and there are quite a lot of models that fit into this category. What makes Recurbate probably one of the biggest databases for Chaturbate videos is the fact that videos are uploaded quite frequently.
Every day, there are hundreds of uploaded videos, and you can easily see all of them as soon as you enter the homepage. If you watched a session live and you would like to experience something that happened during that session again, it will not take too long before you can access the footage on Recurbate and do just that.
Watch free videos with limitations
Unfortunately, while everything that can be found on the site is completely free, you will not be able to watch all of it at once. That is because, for free visitors, even the ones that are registered for a free membership, you can only see one video every day. This is fine if you just want to check out something hot from a session that lasted for hours, but once you do that, you will have to come back tomorrow.
Register for a paid membership for extra features
When it comes to registering for a paid membership, there are two different types. The premium membership is the first paid option, which removes the daily viewing limit, allows you to add two models of your choice to be recorded for the site, and the site generally works faster.
The other membership you can pay for is the ultimate membership. It gives pretty much the same access as the premium ones, but it also adds some extra videos that you can access, as well as an option to download videos. Both memberships come with some discounts if you take them for three or six months, but if you opt for a single month, the premium one is $19.99, and the ultimate is $29.99 per month.
Picking out two models is a great deal
While it is a bit unfortunate that free content is limited, when it comes to the membership features, picking out two models that will be recorded is actually extraordinary. No matter how popular the model is, you can add them to the list of recordings, and you can essentially watch the broadcasts you have missed out on, as well as re-live the best moments, which is priceless. Of course, you can also download those sessions and do whatever you want with them, which certainly has all kinds of benefits.
Pros:
Looks like pornhub
Updated by the minute
Cam Downloader
Cons:
They combine shemale,gay with straight