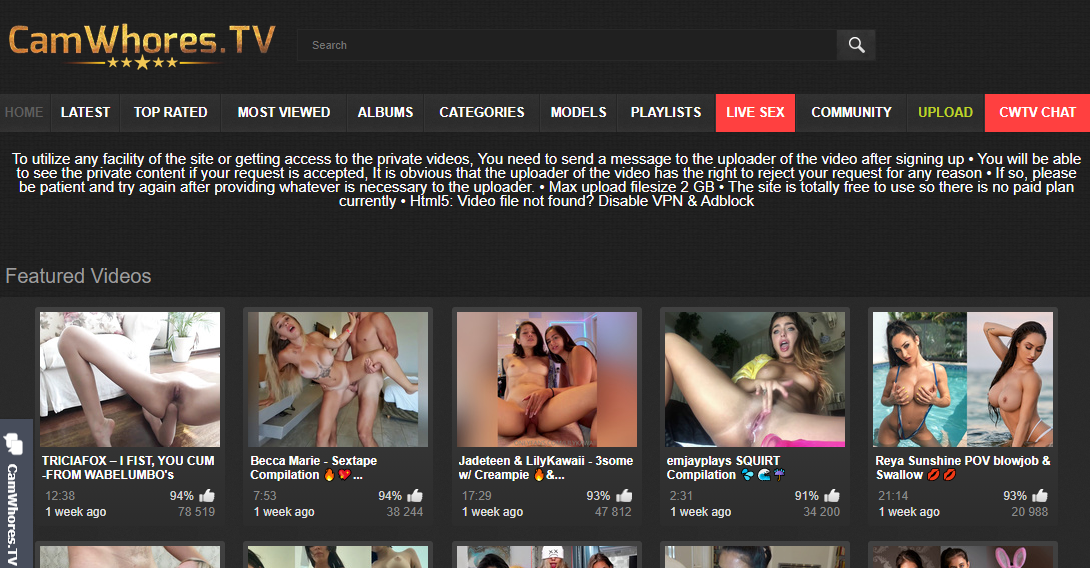 Camwhores.tv
Camwhores.tv
Do yourself a favor and block this shitty site in your adblocker or whatever you use, just avoid this site. The idea is great right? Ton's of cam sluts videos and recorded cam model and onlyfans cam streams for free right!? WRONG! You cannot just freely browse and view the thousands of cam shows that have been recorded. Sure there is some that you can watch, I think maybe less than 10% of the site is viewable. The rest of Camwhores.tv is broken or the videos you actually want to see are private and you have to send a friend request to the uploader to get access to the videos and a majority of the time they wont accept you, they only do trades.
I am a busy guy, I cant spend more time looking for porn and waiting for some guy to accept my friend request to get access to a few cam recording videos than I do jacking off. It's seriously a waste of time. Haha I am salty huh? it's just annoying, they dominate all the search results for cam recording sites and then you have to deal with this lame shit. Nah, I will give my clicks to another site that is built better and less spammy and less of a headache!
"To utilize any facility of the site or getting access to the private videos, You need to send a message to the uploader of the video after signing up • You will be able to see the private content if your request is accepted, It is obvious that the uploader of the video has the right to reject your request for any reason • If so, please be patient and try again after providing whatever is necessary to the uploader. • Max upload filesize 2 GB • The site is totally free to use so there is no paid plan currently • Html5: Video file not found? Disable VPN & Adblock"
Ok so besides being a pointless site, the site does offer a chat room, there is actually a ton of people in their chat room too. However the ads on this site will make you want to pull your hair out or dick off. Not only will you have about 321432784237 pop up's you have to fight with before you can get the chance to press play, you will deal with floater ads and those weird redirection ads that wont less you press back and take you back to Camwhores.tv video you were on it just goes to a blank page and you have to start all over.
Fuck, I hate this site. I will forever have it on the last listing on our list. Worth checking out? Honestly, playing in traffic would be a better use of your time than trying to get your nut off on this stupid site.
Browse Through One Of The Biggest Databases Of Webcam Sex Videos
When it comes to sites that specialize in offering content that is revolving around live webcam sex shows, CamWhores has been around for quite some time, which explains why it is one of the best places to find previous broadcasts of your favorite webcam models.
Thousands of incredibly hot webcam models
Unlike other sites that offer this kind of content, this one focuses more on the community aspect of all webcam fans working together, which is why there are so many videos to go through. No matter if the model is extremely popular, or if she recently started camming and gaining some fans, there is quite a big chance that you are going to find her videos on the site.
While CamWhores definitely focuses on the content from live webcam sex shows, users can also post adult content that the model has shared somewhere else, and in some cases, it does not even have to be adult content, as you can even filter out Youtube videos from certain models.
Watch videos for free by becoming a part of the community
While there are thousands of videos from all kinds of models from various cam sites that you can watch for free without registering, there are even more videos that are listed as private. These videos can be accessed only if you message or befriend the uploader of the video.
Of course, there are all kinds of demands from the users on the site when it comes to getting access to their collection of videos, but in most cases, they will want you to have some videos uploaded as well. The videos uploaded do not have to be unique, which is what makes things a bit easier. If you happen to watch some live webcam shows, all you have to do is record them and post them on the site.
There are definitely no other live webcam sex show video sites that operate like this, which gives quite a unique experience. You will definitely find people that you can have a nice chat with, while also finding some that simply share your taste. Either way, if you give something to the community, the community will certainly give back more than that.
Registering gives various QOL options
Besides giving you the option to become a part of the CamWhores community, you will also gain access to some quality-of-life features which will make browsing much better. For starters, you can create playlists, favorite videos, favorite albums, and best of all, you can subscribe to certain models.
Getting informed when there is a new video of your favorite models is a great feature, especially if you have missed out on a show that you really wanted to watch live. Now that you can see it on CamWhores, however, you will not have to sit through the boring parts without action, but instead, you can fast forward to the juiciest moments of the broadcast.
Cons:
Cant watch any videos
Everything is 'private'
Too many ads
Lame Chat Room