Allison Parker review
back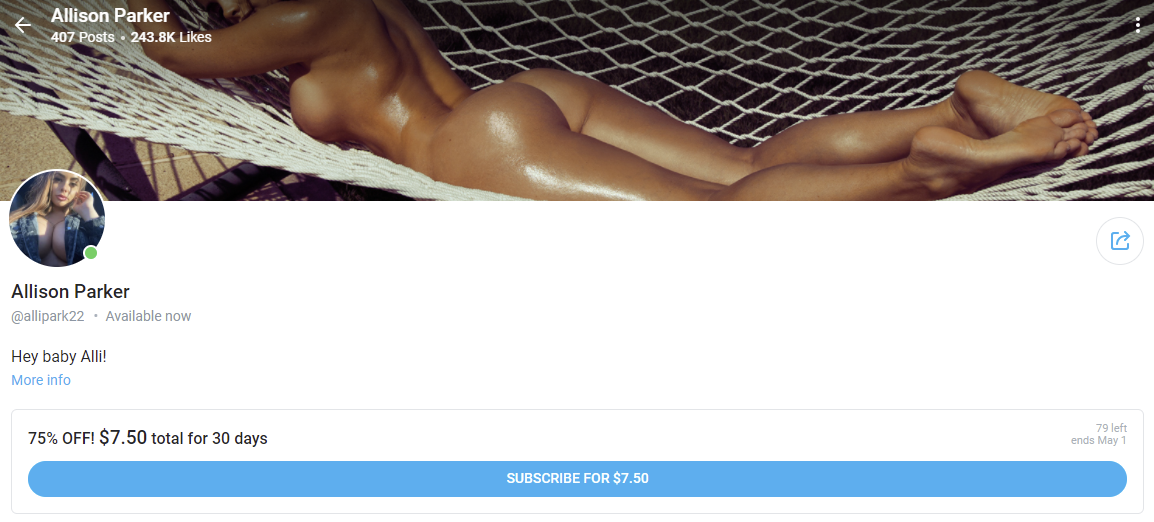 Allison Parker
This is a review about the OG, the one who started it all. Ok not really but she did really come up in that whole instagram thot premium area and pushed it to the mainstream. Her and her little group of thot friends Rainey James,Violet Summers etc…. You can get all of her leaks here. Allison Parker is also represented by nudiez.tv. If you don't remember or just don't care. We did a review on the scam known as nudiez.tv and how Allison Parker basically fucks them all and they use a bot system to flag anything she has online and auto sends dmca's, you can real about the whole scam.
Now that every e-thot has ditched premium snapchat for onlyfans. They ditched snapchat because snapchat was deleting their accounts non-stop and when onlyfans popped up everyone rushed to the new platform that accepts and profits from sex trafficking. We will get into that in another blog at a later time. So what do you get with Allison Parkers Onlyfans Account? Below are her prices…
The prices above, are honestly insane because she pulls the same bull shit as they all do. This is a two tier paywall. This is the entry fee for seeing a few titty pics and some videos of her playing with her pussy for a few seconds to only tease the full video in her inbox. However the real plus with her onlyfans account is that you do get a cock rate for only $20. This girl will give you honest feed back on your little dick for $20. I honestly might have to do this. I will write a review on it later for you guys too.
The plus side of subscribing if you do want to simp. The girl is honestly fine as fuck. She does super hardcore videos. Like Anal,dp,squirting and gets fucked all the time and sucks her fans dicks. The content you do get is a1 fire sauce. The price however doesn't compute in my mind. These girls are honestly making so much money, just wait for the leaks on this one. Is it worth it? kinda.
Cons:
She got fat
Pay Per View
2nd Tier Pay Wall
Timeline Spam