Belle Delphine review
back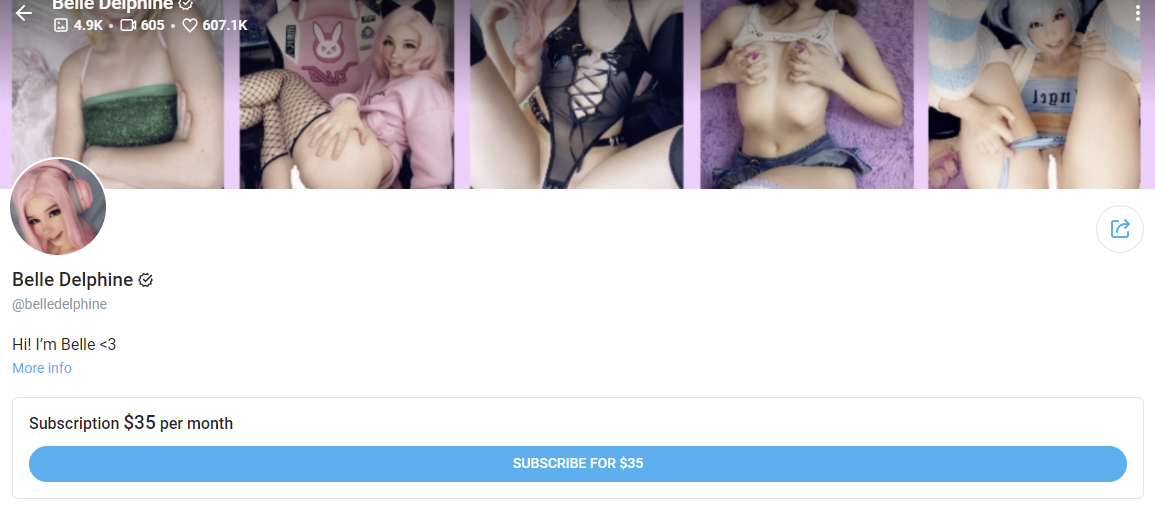 Belle Delphine
This is a review of Belle Delphine's Onlyfans account and we will discuss if its worth it and the price tag! We are all waiting for some actual porn/nude's from these super tiny gamer babe, the OG. If you have seen it by now, she just released a 6ix9ine parody music video, to promote her new instagram / twitter and really her onlyfans account. This girl is the troll or trolls. Anyway check out her parody music video.
Of course there is already a 10 hour version out there you can just edge and jack off to it for 10 years. The video is mad hot and you could easily squirt some juice out your little weenier to it. I guess they had to age restrict the video recently, youtube is so lame. Ok lets get to the onlyfans she just put up and what do you get , price and everything else involved.
If you look at the image above you will notice she is asking for $35 a month!!!! WHAT THE FUCK!?!?! If anyone of you were subscribed to her patreon, you know she doesn't put out anything but cosplay sets. She is a troll with her content just like her premium content and you should not expect anything different. For her to ask for $35 a month to get access to more tease photo sex and shitty little 30 second videos in the bath tub is just way too crazy. Especially when you have new cute girls waiting to turn 18 to put there onlyfans live all day every day. However she is a famous living meme so maybe to you its worth it.
So, is it worth it? no and you're a little beta simp if you pay for it. However if you cant wait for leaks then go ahead and get it but the stuff she does have up is already leaking and on multiple sites. She says she is going to be updating daily.
Pros:
She Started Doing Porn
Anal
Dp
Cosplay
Tons of Content
Cons:
Has not posted in months
She splits up video posts
Very Expensive