Genesis Lopez review
back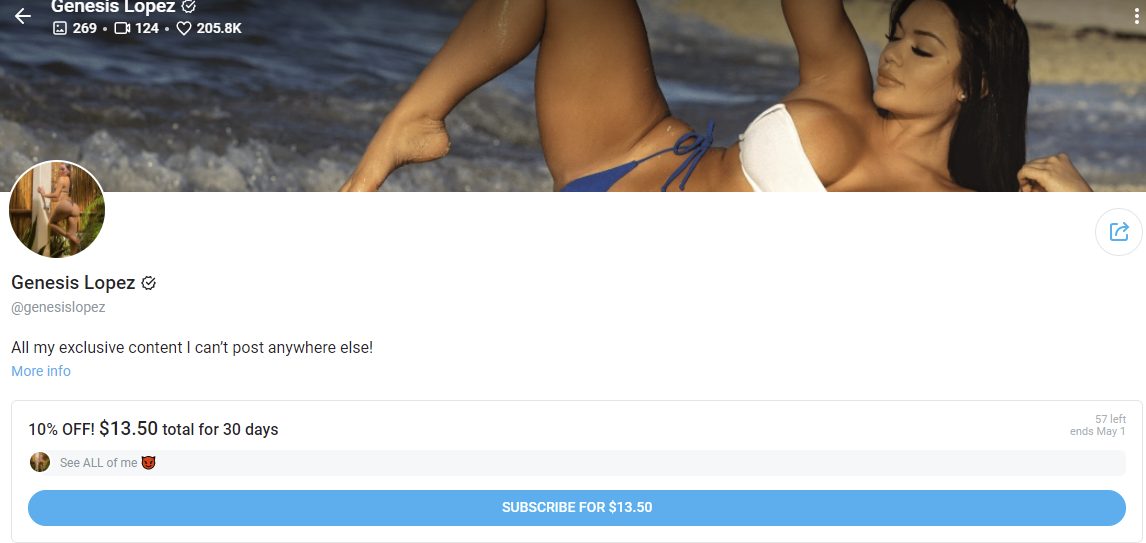 Genesis Lopez
Ah Yes, Genesis Lopez. One of the original Thots. This is a review of her Onlyfans page, What she is offering for your hard earned money. We should start by saying. Please stop being a SIMP and wait for leaks. If you cant wait however, this is what you will get if you do decide to simp out for Genesis Lopez.
Genesis Lopez has been at this a long time. She has been cam'ing on MFC and other cam networks for years. She went by "gia" and "Genesis Mia Lopez". It looked like she started getting on cam around the time she became 18. If you look at her old cam leaks she looks way different but she will be the first to admit how much plastic surgery she has gotten. She also works out like crazy and has a perfect body.
Genesis Lopez has over 4.8 million followers on her instagram right now. So if only 1% are paying for her onlyfans. That is a lot of fucking money. She is asking for $9.99 (per month) for her instagram right now and you can pay $53.95 for 6 months access. What kind of content are we getting for this though? Well she uses the two tier pay model like the other models we have written about. To explain again, its $9.99 for access to her Onlyfans but then charges a premium for individual videos the more "premium premium content". Too me this is a bait and switch scam but whatever, cant knock a hustle I guess?
When you first get access to her Onlyfans, you will see what you'll see on many other girls onlyfans. Lots of underwear videos some titty pictures and some "hardcore" type tease videos for 5-10 seconds long. You can pay to unlock each one. However she films with super high def camera and sometimes she does those music video nudes with rap or techno mixed in the background. Its cool but I want to see her getting pounded. If that's what you're looking form, you need to search out her cam leaks or really all of her older stuff. She has old sex tapes and stuff lurking for free before onlyfans came to be. If you're looking for hardcore really hot content then Genese Lopez Onlyfans is not for you. If you're looking for a hard bodies instagram model showing off her fake tits and perfect stomach, then its for you.
Pros:
She is so hot
Lot's Of Content
Does Porn
Cons:
PPV
2nd Tier Pay Wall
Some Spam