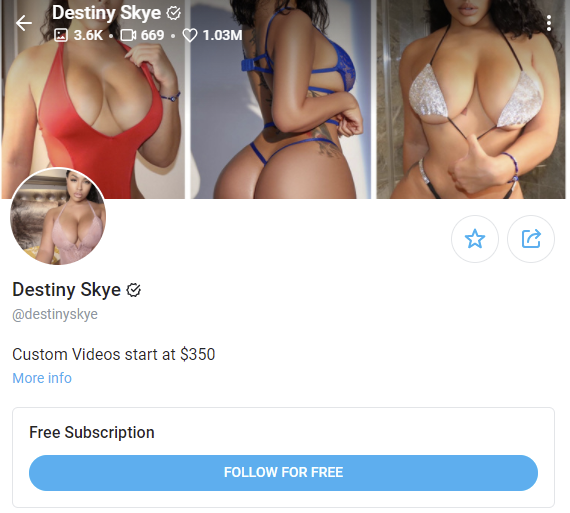 DESTINY SKYE
We will be doing a review of the instagram thot Destiny Skye. She has over 800k + Followers on her instagram and you can check that out here. If you're into those chicks with huge fake tits and fake asses but hella pretty faces. This is the thicc thot for you. She moved from having a premium snapchat to using onlyfans and is now doing premium content over there full time.
She was recently on the mtv show "wild'n out" and has been spamming that shit all over instagram and the rest of her social media lately however we are here top find out if its worth the buy for her onlyfans. You can check it out here. You will notice once you get there that its "free". You will be presently surprised and so will your tiny tiny little penis at it being free, I know my tiny little penis was and I'm a cat.
If you take time to read her bio at the top of her onlyfans you will see the circled message above "Custom Videos start at $350". That is a huge red-flag! The audaciaty of this thot to ask for $350 fucking dollars for a "custom" video. Dude, iv gotten girls to shit in a cracker box for free the first week I got the internet. Anyway, lets scroll down a little bit in her feed and see what else she offers.
The picture above is basically what the whole feed is, she wants $26 dollars for the 3rd part of a dildo video? I swear you should have been beat up more on the play ground as a child if you think paying that much for just a part of a dildo masturbation video from some chick you will bang. At least on brazzers you get like 50 sites + a billion videos for $49.99 a month. I dunno man, this shit is not worth it. Throw her onlyfans on a black list and kick rocks.
DO NOT BUY!

*update - you can now subscribe for free but she spams pay per view.


Pros:
She's Hot
Fat Ass
Free to Subscribe
Cons:
Barely Any Content
Very Expensive for PPV
Scam