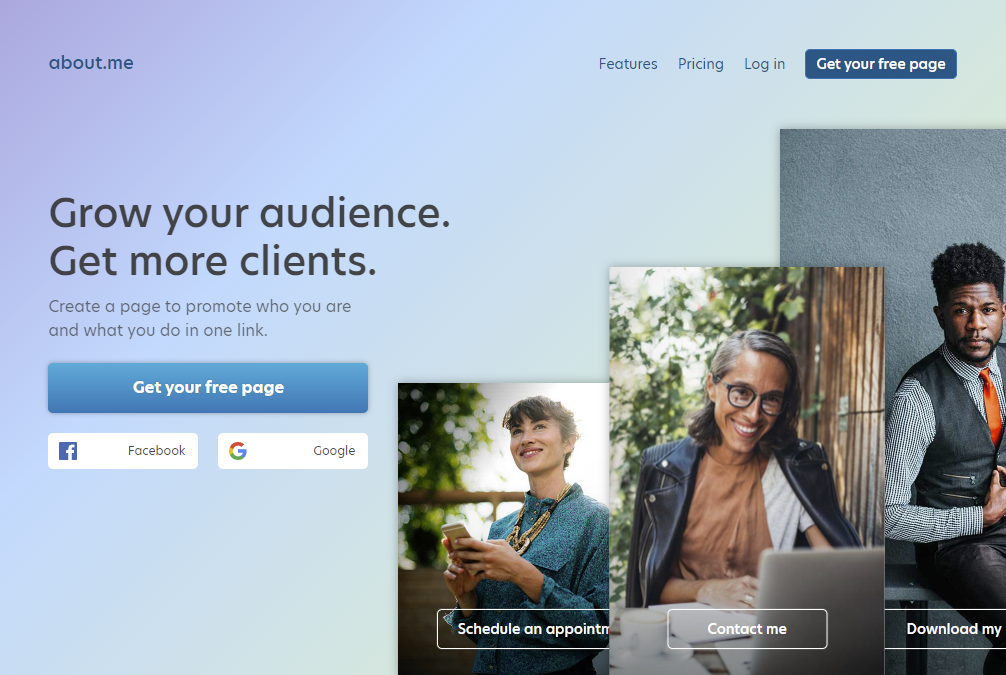 About.me
Get your audience to know you with About Me
If you ever wanted your audience from various social media platforms to get to know you and your brand better by getting them to a mini-site that you can customize to your choice, then about.me is the service you are looking for.
Great homepage and site navigation
Upon entering the homepage, you can immediately tell what the site is about and what kind of service it offers. It does not take too long to realize if their services are what you are looking for or not, and that is what makes their homepage fantastic. When it comes to navigating through the site, accessing important sections like all the features as well as the pricing, along with your page once you are registered is very simple, and you will not get lost in finding whatever might interest you on the site.
Available free features
There are quite a lot of features when it comes to about.me, especially when you compare them to some competitors that offer a similar service. For starters, you can create your about.me page, which looks very professional, even if it is simple to do. In case you are someone who uses e-mail a lot, then the e-mail signature feature that adds a snapshot of your page to every e-mail message you send will make you seem more professional, and it will certainly get you some clicks.
The about.me page allows the visitors to get to know you better and find things that are important to you. The spotlight button allows you to tell your fans to check out a certain video, a podcast, or to listen to the same music you are currently listening to. Every real fan wants to know their content creator better, so this feature is quite outstanding.
Paid features
While the features mentioned earlier are completely free, for the additional features, you will have to subscribe. The subscription can be paid in a monthly or annual fashion, and it costs $8 per month, with the yearly plan giving you two months for free, making it $6.68 per month instead.
By subscribing, you will get access to some really interesting features such as appointment scheduling, capturing your audience better through an e-mail list which you can connect to your Google account, you can customize the domain name on about.me along with the search results on various search engines, and with that also follow Google analytics.
Other than this, you also get access to testimonials, a contact me page, a portfolio, and a video embed which will allow even deeper communication with your audience. By using all of these features, you will definitely make your brand grow, and you will get closer with your fans.
Using about.me is recommended for pretty much everyone who wants to build their brand online from scratch, as it is probably the cheapest and best way to do it at the moment. Taking advantage of all the offered features is the key to a successful about.me page, as well as the growth speed of your brand.
Pros:
Beautiful Site
Unique Options