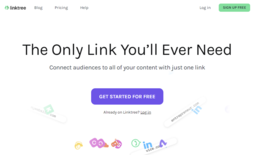 Link Tree
Post links anywhere you want at once with Linktr.ee
As creative content creation is becoming more accepted as a regular job, and as there are more social media platforms out there, it is becoming harder to get in touch with the audience that is spread across all of those different social media platforms. With linktr.ee, you can easily connect with everyone from a single place, ultimately saving time on advertising your content, and getting more time to make it instead.
Clean homepage
Something that is always nice is when a homepage goes straight to the point, which Linktree certainly does. While it might look empty at the first glance, the things that are there, are the only things that should be there, and as you scroll down the homepage, you will get to appreciate that fact more and more.
What does Linktree achieve?
If you happen to be an online content creator who often has to link new content or live streams to various social media platforms like Facebook, Instagram, Twitter, and Youtube, you can easily share a single link to all the platforms with the click of a button.
While that is the essence of Linktree, there are a couple of extra interesting features which will help you get closer to your audience, and it will also make things much easier when it comes to collect certain information that will help your career.
Available plans
There are generally two available plans since the third available plan is only for companies that control multiple accounts at Linktree. The basic plan is completely free, which is fantastic if you are just starting off your online career, and the Pro plan is $6 per month.
The free plan
By signing up on the site, you will essentially get access to the core idea of Linktree, which is to link to as many places as you need to with an unlimited amount of links. You will also get the ability to collect emails, phone numbers, and payments from your audience.
You will also get access to customizing your Linktree profile with some built-in themes, as well as the ability to track the number of clicks that the Linktree links have generated throughout their lifetime. Embedding video content directly into Linktree will also be an available feature.
The pro plan
Naturally, the Pro plan, which is a monthly subscription, will include everything that the basic plan does, with additional features. For starters, you will get to amplify your brand with advanced customization and themes, and you will get access to powerful integrated features that will help you grow.
Posting links will also become much easier as you will be able to schedule them, fool around with their functionality, and prioritize certain links. The best feature from the pro plan is probably the part of tracking your audience by seeing which country, city, and social media platform they come from so you can adapt your content.
In general, considering how cheap the monthly plan is, if you can take any advantage of it, it is certainly for the price, even if we believe the free version is more than enough for most content creators. Saving time on posting links to various social media platforms is definitely something every content creator should take an advantage of.
Pros:
The best link management service