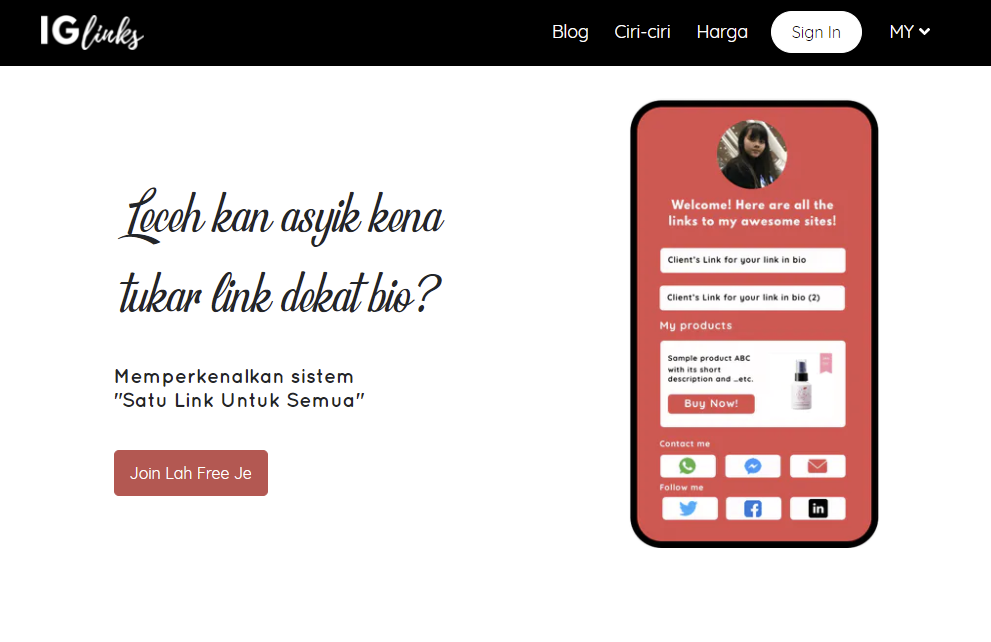 Ig Links
One link to rule them all with IgLinks
Today, marketing through social media is becoming more and more common, especially when it comes to Instagram. It is one of the most used apps in the world, and taking full advantage of its audience is certainly what every business should be aiming for. With iglink.io, you can easily navigate all of your customers to get to your landing page by using a link in your bio, which you might have seen in some other services.
The site could use some work
While the services get a lot of praise, and we will talk about them later, the site can definitely use some work. For starters, it is a bit confusing that the homepage is not in English on the first visit, even if there is an option to change to a full English site in the top right corner. Of course, this is a bit of a minor nitpick, but it would only make sense that it is accessible to more people in the first place.
While the service does not really offer too many things, one cannot expect the homepage to be booming with information, and while not enough material on the homepage is usually a bad thing, for IgLinks.io, it actually works in their favor. By not fluffing the homepage and trying to make their service more than they actually are, they gained our respect, and probably the respect from their users as well.
Plans and programs
Since the service is quite simple, which is essential to make links that will actually take the customers to a single landing page, there are not that many options when it comes to plans. The free plan gives you access to unlimited links to be created, but they use a single pre-designed theme, and they are usable on a single account only.
The basic plan is $5 per month, and it includes the same things as the free plan, but with many pre-designed themes as well as 2 additional accounts. On top of that, it adds analytics which will help you track who is interested in clicking your links, information that every business should consider taking an advantage of.
Lastly, the Pro plan for $19 per month includes everything like the basic plan and allows you to use the links on five different accounts, and it removes the ads from those links as well. Having ads when someone clicks a link can be quite annoying, so this is the recommended plan.
If you happen to be a huge network that manages all kinds of Instagram accounts, then the Enterprise basic and pro plans might be what you are looking for. The basic plan costs $999 per month and gives 100% customization, custom links, and 300 accounts. The pro plan costs $1899 per month and it gives access to a full-page design on top of the previously mentioned features.
In general, if you have just started marketing on Instagram, and if you are a new company, try out the free plan to see how it is working out for you. If it does great, upgrading straight to the pro plan is suggested, just to avoid ads.
Pros:
Made for instagram influencers
Free