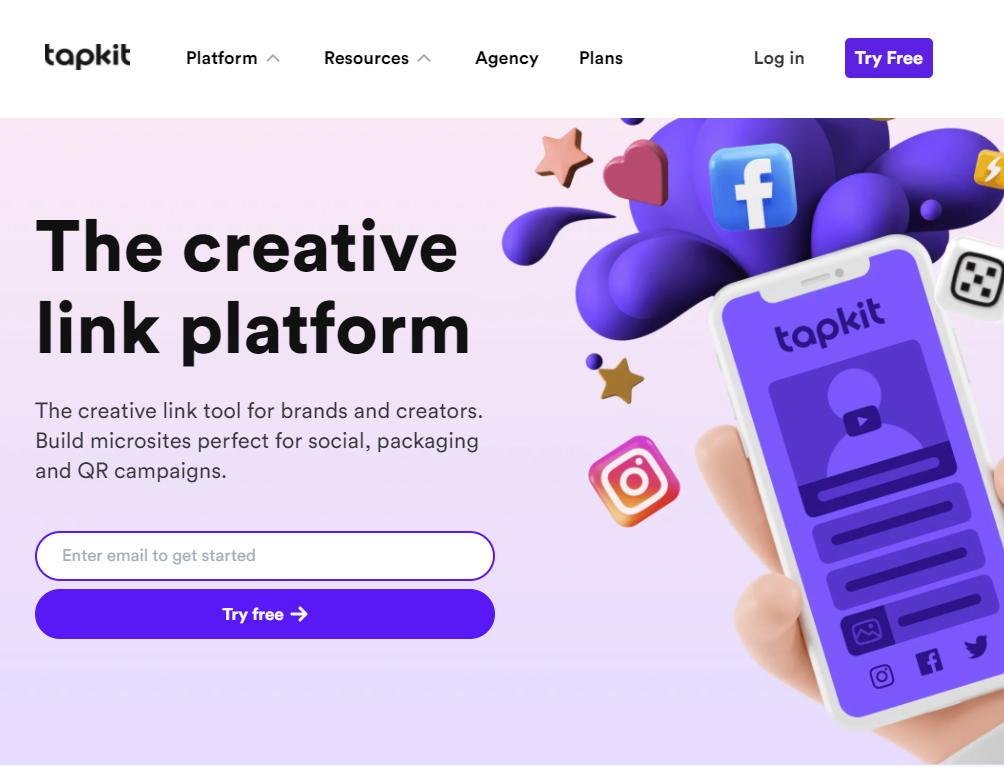 TapKit
Grow through social media with TapKit
If you happen to be running a couple of social media pages where you have a big base of followers which you would like to turn into potential customers, then tapkit.com is something you might want to check out, as it will give you access to various quality of life features by creating microsites for your products.
Slightly confusing homepage
While it is somewhat easy to understand what the service is about, it does not really hit as soon as you enter the landing page. It took a bit of scrolling and reading to understand what exactly this service is about and what advantages it provides to someone who manages social media accounts as a part of their business.
Navigating the site was actually not that bad, as all the main navigation buttons are on the top of the page, however, it would be nice if the homepage would redirect to some other sections and provide a bit more explanations on certain advertised features.
Plans and features
There are three different plans, and the first time you enter the pricing page, it sets it to default to a yearly payment plan, which is a bit of a scummy thing to do. With this, the service prays on unsuspected customers who only want to try out the feature for a month but instead bill them for a full year, despite it saying the price for each month.
The free plan is useful for pretty much everyone as it will allow you to have up to five projects at once, and you will be able to create 100 leads on that account. You will also get access to the core features, which are the drag and drop builder, interactive widgets, flow analytics, and a custom URL. From customer support, you will only be able to contact them via e-mail, which is not that great, but this is the only customer support option through all the plans.
The "Grow" plan is recommended for start-ups, freelancers, entrepreneurs, and brands. It allows up to 20 projects at the time, and up to 1000 leads every month. Naturally, it includes the core features, but it also removes the tapkit branding, and a couple of integrations like Zapier, Klaviyo, Mailchimp, Hubspot, and Facebook Pixel. It also gives access to custom fonts, and with that, this package costs $19 per month.
The "Pro" plan gives you access to unlimited projects, unlimited leads, and all the other stuff that the previous plans include with 3 subdomains, 1 domain, smart result frames, and raw data views. For $48 per month, this deal is not that bad, and if you would like even more features, you can contact TapKit for a custom plan that gives custom billing, campaign management, bookable coaching sessions, and more.
Overall, TapKit.com is quite a decent service for everyone who wants to expand their marketing on the internet, especially on social media. Their site could definitely use a bit of a redesign, along with the change of tactics on the initial billing plans, which make them look bad.
Pros:
Great Looking Service
Nice Backend Options
Easy to get started