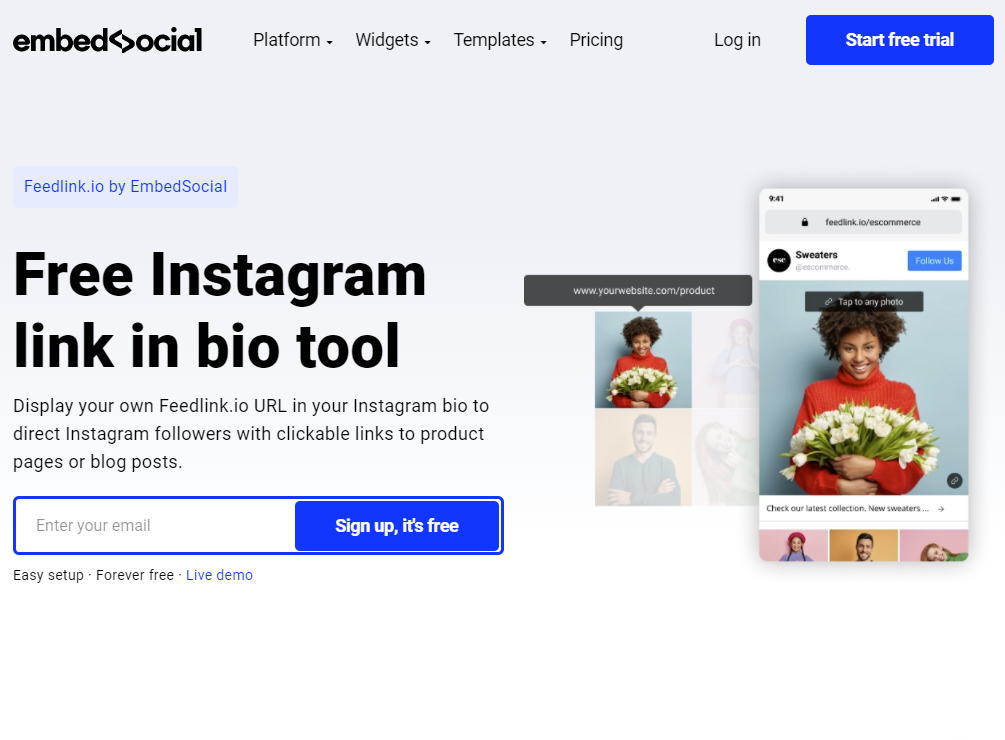 Embed Social
Enhance your Instagram with Embed Social
If you happen to be interested in expanding your business through Instagram, then taking advantage of the features that embedsocial.com has to offer is certainly not a bad idea. It will allow you to create a feed link that you can put in your Instagram bio which will lead the customer to a new Instagram page that is full of clickable posts which take them to whatever landing page you desire.
The site works as intended
It can be quite painful when the site which tends to promote advertising and marketing falls on its face by doing the complete opposite with its poor design, but that is luckily not the case when it comes to embededsocial.com. Everything is exactly where it is supposed to be, and as soon as you enter the homepage, you will realize all the features that their service has to provide and if they are something that you might be interested in.
What are the core features?
With Embed Social, you will be able to create a clickable Instagram landing page, where visitors can interact with all the posts. If you happen to be selling something, you can easily attach an URL to all of your posts which will redirect them either to your store's homepage or directly to the product's page so they can instantly make a purchase.
This is quite a useful feature because it makes things for the customer that much easier. No one wants to go through a dozen links just to buy something. People usually lose interest if it takes more than two redirects for them to get to the checkout page, and with Embed Social, you can make it so that a single link will do all the magic for them.
You can edit the Instagram feed into whatever you want, but you can make it so that it always takes the customers to that single landing page that you are aiming for. This is great, as it does not require too much effort from your side, and to the customer, it looks organized and professional.
Plans and programs
Unfortunately, this service does not provide any kind of free plan which lets you try out some features, however, you can go on a trial period in all three plans that they offer. All plans are more or less the same when it comes to the features offered, with only the increase in sources for each plan.
The Pro plan, which is the cheapest option at $29 per month will give you access to multiple forms, various social media sites, layouts, auto-updates, moderation, a yelp location, the ability to import custom reviews, and many other features. The Pro plus does pretty much the same thing, but it gives you access to 6 sources instead of 2 like the regular Pro plan, and the price is increased to $49 per month for those extra sources. The Premium plan which is $99 per month also includes team sub-accounts as well as API access.
It is important to note that the plans are available in review, album, feed, and stories, which seems rather expensive unless you can get great value from customers that will click on the links that you will create through Embed Social.