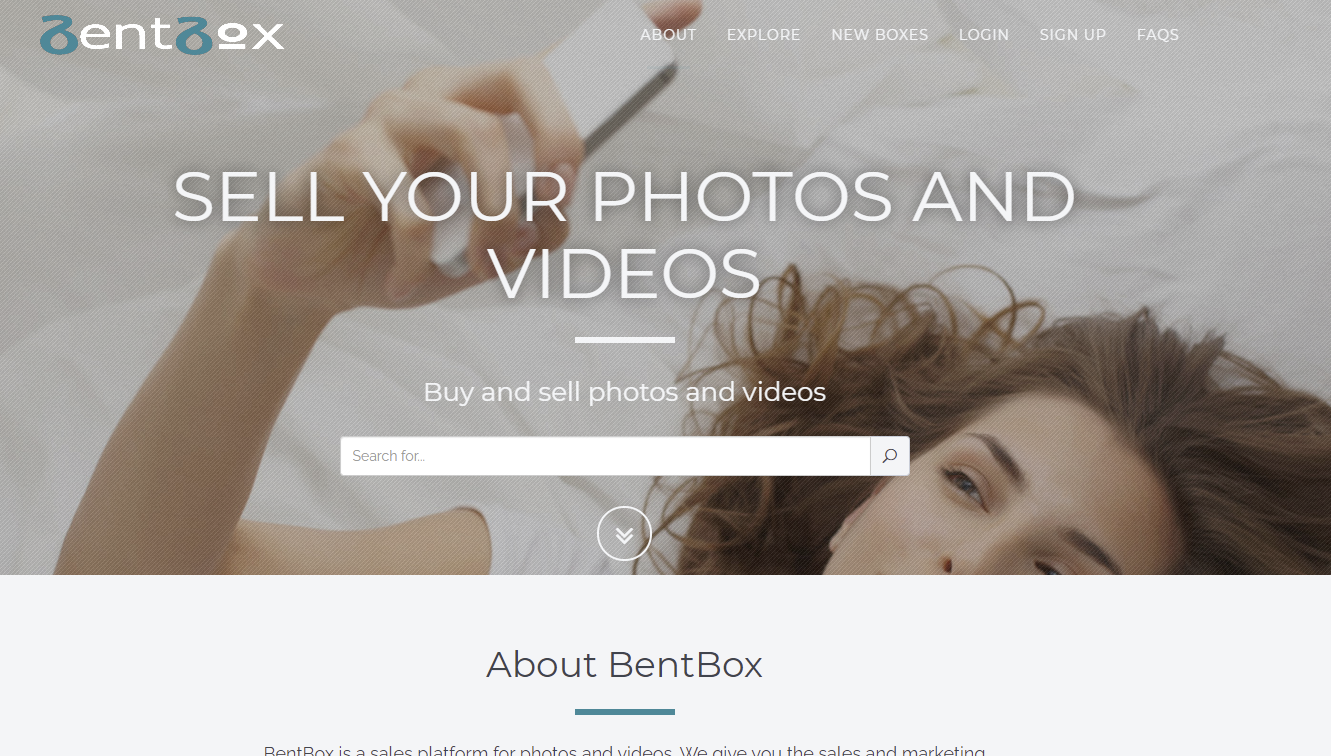 BentBox
BentBox.com - Selling platform for all types of content
BentBox.com is a platform that will help you sell any type of content you make once you join the site. It is easy and simple to use. You just have to make an account post your content and price. After you do that, your content will be ready to receive money, and when it's sold, you receive the full price you set for the product. Unlike other platforms, they won't take fees from it, so you will be receiving full payment for the price you set up in the first place. They have many categories that could fit with the content you want to sell, such as experimental, pop art, cosplayground, weird and wonderful, nude and beyond, and male art. Unlike other platforms on here, you don't have to sell just your adult content but other forms of art, too, which could be beneficial. Many adult content creators do art on the side and sell it, but you can do it in one place only, which is BentBox.com. It would be much easier for many content creators to sell different forms of art in one place instead of on many different platforms.
How does a BentBox.com work
Their payments are available through credit cards and other payment systems such as Bank Transfers, Bitcoin, any major brand gift cards, and selected prepaid cards. For people who want to buy products from BentBox.com, they can purchase them through any credit card through SecurionPay, PaySafe, and Verotel. Gift cards from any major brands work, too, such as Starbucks, Target, and others. If you want to use your local bank, that works too with EUR, RSD, GBP, and AUD. You can also use Paysafecard Prepaid Cards, NeoSurf Prepaid Cards, and bitcoin. Sellers will be paid every month with these PayPal options:
- Bitsafe
- Bank transfer as a local direct deposit
- Skrill
- Amazon Gift Card
- Neteller
Payouts through Skrill and Neller are in EUR only, and your payout will be in the currency of your bank account that you use. When the buyer sends their money, it will be transferred to your account in the next seven business days. PayOuts are paid in the USD or in the currency of your bank that you are using, depending on their availability. To be able to proceed with the payment, you have to possess a minimum of $100 till the end of the month. And if you don't happen to have that much at the end of the month is passed to the next month. If you need any further help, do not hesitate to reach out to them at their email address [email protected]. Or you can contact them on their main page at the bottom, where you can send them a direct message once you enter your name and email.
How to get started
It is very simple to use, and they have detailed tutorials on how to sell your products. You upload your photos or videos and set a price on your Box of vids or pics, and that is all. BentBox is free to use, and you receive the total price you set on the product you wish to sell to people. You could sell the access to people to be able to view your photos or videos or give samples of what you're trying to sell. Once you receive your payment, they will transfer your money to the bank you use as a local deposit or with Amazon Gift Card.
You will be promoting your own content with the help of BentBox with the unique link BentBox.co/YOUR_USERNAME, where you can promote your content how much you want. You can also promote your Boxes on other social media platforms since that is what their top sellers do to attract more people. You could also have a look at the articles they have prepared for you on their tutorials. Anyone can subscribe to your content since your page is public or to your individual boxes, and they will be notified every time you update your content. To improve your visibility, be sure you tease every BoxBox you post that will make customers interested in it. Also, your descriptions will be picked up by Google and other search engines, which will make your content be easier to find for people to buy it.
Their top sellers explain in detail what they're selling, and it always attracts more customers who buy their content. Your content is copyright protected by Global Licensing Agreements, and they use copyright standards for licensing agreements. Your content is yours and no one else's. There are no weird terms and conditions, and it's protected by their privacy policy. You can decide if your content can be downloaded by others or not. To be able to modify that, you can do it from the Box page. With the exception of "Personal use without download," all license agreements permit content download by default. You may charge whatever you want for your digital content Boxes. According to their commission plan, BentBox adds a commission fee to your pricing.
The buyer of the Boxes will be responsible for the BentBox charge. On how to make your first BoxBox of photos, you can visit their tutorials, where they have a link on how to do so. They also have a link on how they prices which type of content goes on the market if that could be useful to you. You are allowed to utilize high-resolution images. Even the original dimensions are OK. For your web page, our servers will take care of lowering them. They have many other links and tutorials about their features, why photographers should use BentBox, premium content strategies, and many more.
Start today with BentBox
They have many options available for many artists and adult content creators with the best pricing strategies and tutorials. They have detailed tutorials for everything, and it's simple and easy to use. There are many things on BentBox.com that could not fit in the description, but once you start using BentBox.com as you see your content flourish, you won't be disappointed.
Pros:
Easy to set up
Great Design
Extra Income
Onlyfans Alternative
Cons:
Could have higher pay rates