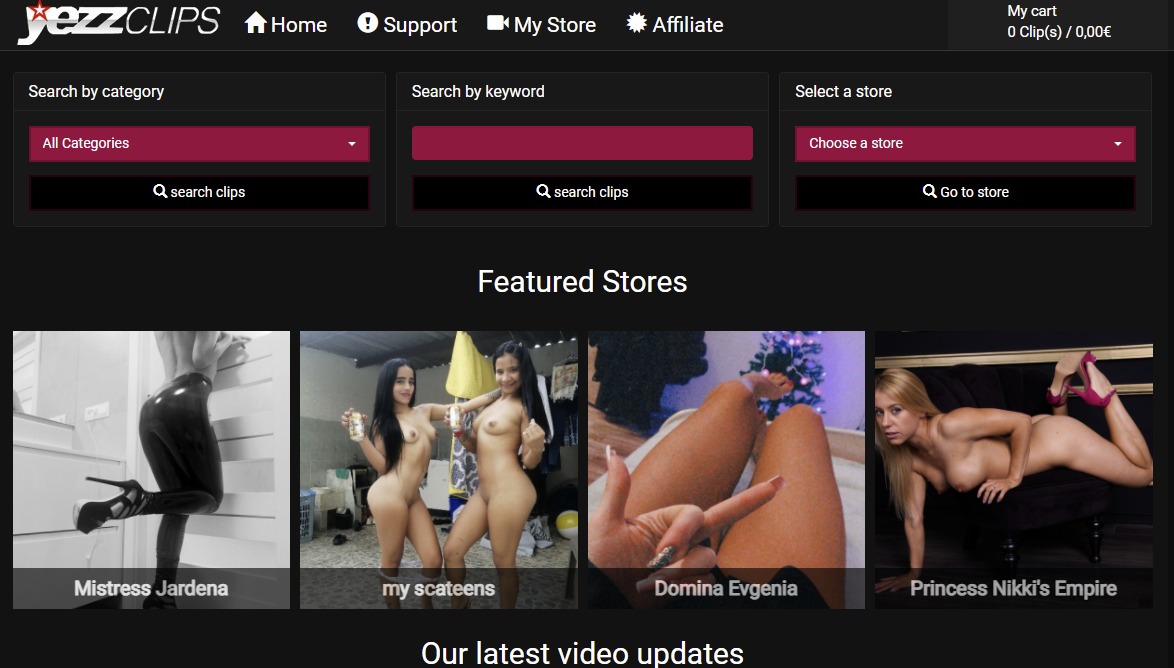 YezzClips
YezzClips.com - Femdom fantasy of your dreams
YezzClips.com is a site made specifically for femdom, and what is that? If you are reading this, you are probably quite aware of it, but if not, then femdom is a woman who is dominant. This means the site is dedicated to dominatrix women who dominate submissive men for mutual pleasure. Women being dominant and men being submissive is a controversial topic to some but is very much real. But since there are more dominant men and submissive women, sites like this and content, in general, are hard to find. That is why I present you YezzClips.com, where you, as a dom woman, could enjoy the content or even join the community! And it is also here for men who are submissive and like to watch this type of content. There is no shame in being a submissive man or a switch. It is in your nature and completely normal. So if you were lucky enough to stumble upon this site, you hit the jackpot! And you could even maybe promote it to the fellow communities with submissive men and share the gold. They have much kinky content that includes degradation, bondage, and many more!
Open up a store on YezzClips.com
If you are a dominant woman who is sick of other dominant men and want her personal boy toys and even get paid for it, you're at the right place. If you ever wished to become a dominatrix, this is your chance with YezzClips.com.There are many reasons why you should pick YezzClips.com amongst the many. One of the reasons is that they pay you out up to 60% with no additional billing expenses or hosting. Once you sign up, you can set up your stores immediately. You don't have to wait for anything, and there are no setup fees. They boast cutting-edge software and design that is more dependable, secure, and comfy than any other competition. They'll provide you with the most up-to-date information and monthly summaries. You are also free to choose your payout methods, such as international wire, cheque, or German wire since the site is German. You may choose between 150 EUR and 10.000 EUR as your minimum payment. You will get to live your dream as a dominatrix who degrades men for a quick buck!
Sign up as an affiliate
If you join the YezzClips.com Affiliate Program today and earn 20% of all purchases for the rest of your life! You may earn more money by referring other affiliates (25 percent of their earnings, 5 percent of the total revenue they make). Even if you refer other studios, you could earn additional money as well (5%) of the overall money they earn. And what does YezzClips.com offer you as an affiliate member?
- They provide a variety of promotional options, including IFrames, Banners, and Video Ads.
- You may share in the money generated by the numerous users who have switched from paysite subscriptions to a pay-per-clip model.
- Once a client joins YezzClips.com as a result of your referral, he will be allocated to your affiliate account for the rest of his life. You'll get a 20% cut of every order he ever places! The revshare is determined on a gross basis, meaning that no processing fees or other expenses are deducted.
- When you introduce new affiliates to YezzClips.com, you will receive an extra 25% of their profits (equal to 5% of their overall sales). They offer you out of everything the dream you've wished for. They offer you all the sexy and desirable dominatrix who love to use men as their boy toys!
Femdom is hot
YazzClips.com has content that is considered very controversial in society but they understand people's needs. They understood very well the people who want to fit in and find the place where they belong. You, as a submissive man who is cast out from the norms of today's close-minded society, will feel at home. And that home will be YezzClips.com, where women who are also the cast outs for ''acting like men'' welcomed and seen. The dominant goddesses of every type can be found here, waiting for you to see their amazing performances with their pets! And when I say pets, I mean boy toys! Grown men like you who are into these types of women and content and wanted to participate in it. They had a dream to be dominated by a beautiful woman in the latex suit with a whip, and they achieved it! Even documented it and turned it into a profession so other men like them who aren't able to participate can at least watch it. Nothing feels like home as the place with all the people who are just like you!
Do not hesitate on your urges!
If you are not able to find the woman of your dreams who will be a dominant mommy to you as an obedient good man do not worry. On YezzClips.com are many men who documented these magnificent scenes and people turned femdom into a small community there. Everyone is welcome to free their urges and enjoy the content. It is your right to be dominant or submissive or even both ain't no shame in that. You might not be able to see it or feel it in real life, but this is the online community that will give you enough affection through their content and a place where you fit in. Start using YezzClips.com today and you will receive the best orgasms of your life!
Pros:
Faster Servers
Easy to sign up
Great Support