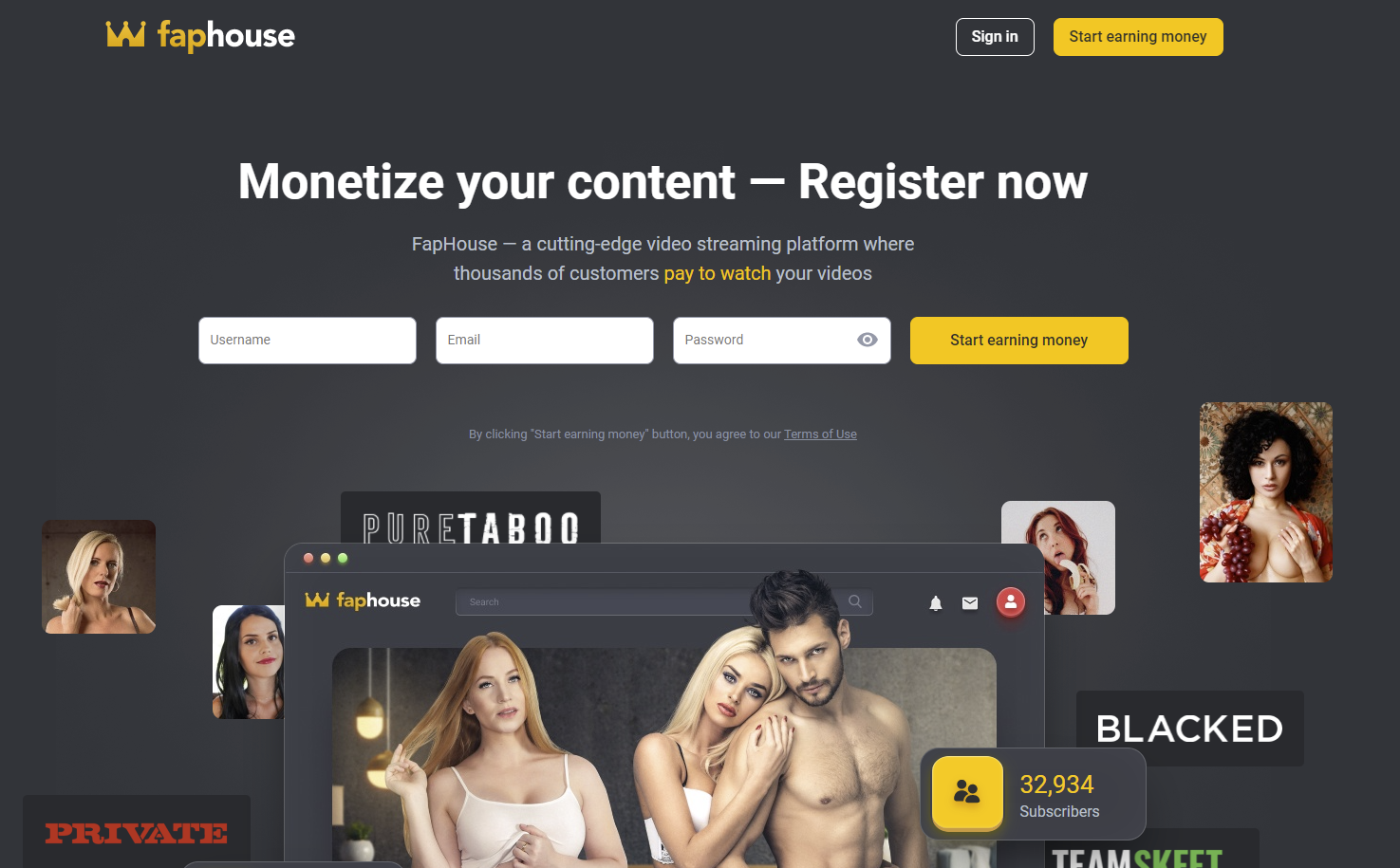 Faphouse
FapHouse - Monetize your adult content and thrive
FapHouse is a site that is here for you to help you if you are struggling with making money in the sex industry. Or you perhaps want the side hustle or another form of income out of many. That is your personal thing. FapHouse is not like any other regular adult-based content-creating platform because here, the money is a sure thing. It is a video streaming platform where thousands of people pay to watch YOU! All you have to do is make an account and start sharing your content. Your traffic is FapHouse's main job, and that is a promise. The FapHouse has 2,000,000 daily visitors and 50,000,000 on its partner's websites. You will be able to add your videos to their member's area, where the view rate is five times higher and will earn you money. Exclusive members clubs are also something you will be able to make and earn more money from as well. Or you could even sell individual videos to the customers, and unlike OnlyFans, FapHouse has many more perks and advantages. On pages like OF, you post the content and go, but here it's two in one. You sell content and get your content monetized no matter what.
Benefits and perks with a monetized content
Do not waste your time and money making content for sites that are not promising, and wisely choose FapHouse. Not only do they have 2,000,000 daily visitors, but once you make an account, post the content and get it monetized, there are many other advantages. You won't need Drops, S4S, Crosspromos or blog posts, or anything of that sort. FapHouse view-share program pays you every time one of your films is played in their Members Area. In comparison to other streaming platforms, their view-share rate is five times greater. Customers who take an interest in you and want to see your Fan Club videos can subscribe to your private streams and become your true fans. For new subscriptions and re-bills, you get 68 percent. You can as well sell individual videos at a set price by yourself, and you could earn money on every sale. If you post the content every single day, you will have regular traffic because users will get used to it daily. FapHouse has a private message option where you can sell your content as well. You can chat with your fans one on one there and send them private and exclusive content with the price to unlock it. You can as well receive tips from the FapHouse members.
FapHouse is better and here is why
Besides everything said, the view share they have will allow you to get money from absolutely any FapHouse member. If they stream the videos that you uploaded and set them to view share, you will get paid for every view. Your Fan Club will be there for your fans to subscribe to your feed, where you set the subscription price. You can post whatever and whenever, but if you keep posting regularly or rather daily the more successful you will be. Chatting and selling content with your fans through their private messaging program will help you a lot. You will get closer to your fans, get more money, and the fans themselves will be satisfied. Keeping up your feed daily updated is very important and a key to true success in keeping your fans to stay and engage. Your fans will be able to engage with your content by liking your posts, direct messaging you, and as well tipping.
The most efficient way of making money
Once you start using FapHouse and meet its many perks and advantages, you will keep getting surprised and more successful. Once you start chatting with your fans, you will explore many new ways of selling your private content and earn more money. Even through the private chats, you will be able to receive tips and sell videos and pictures desired by the customer. Your customers will even pay you sometimes to send YOU photos of themselves. Besides everything, every time you have some new updates or anything really, there is an option for mass sending. So there won't be any need for you to send the same important messages separately because I'm sure you will have too many fans for that. Of course, not everyone can expect immediate success once they start, but patience is the key. Once you have a Fan Club, any fan can send you any kind of tip for anything or even nothing, and they just felt like it! You will be paid every month for your hard work via Paxum, Sepa (EUR), Swift (USD), ACH/Direct payments, and Cryptocurrency. There are truly many ways to earn with FapHouse, so choose wisely!
Smart choices lead to the successful lifestyle
Besides everything said on FapHouse, you will find a tutorial on how to start and make all things necessary at the bottom of the main page. They are not your typical adult content selling platform where you come with a fanbase and get paid for what you post AND nothing else. FapHouse wanted to get above that and add many perks for your advantage to choose what will lead you to success. General things, information, help, and support, are available as well at the bottom, so feel free to contact FapHouse for anything about them. Starting this kind of business might be scary at first, and it is true to be told. But if you decide this is something you plan on doing, and you are not sure which platform could serve you and treat the best FapHouse is for you. Truly the safest bet to the success and thriving with your content and fanbase that will only grow through time like a delicate flower. If you keep nurturing the plant, it will turn into a beautiful blooming flower which could be you. Choose smart, work hard on your content with no pressure, and thrive with FapHouse.
Pros:
Well designed
Beautiful UI for creators and users