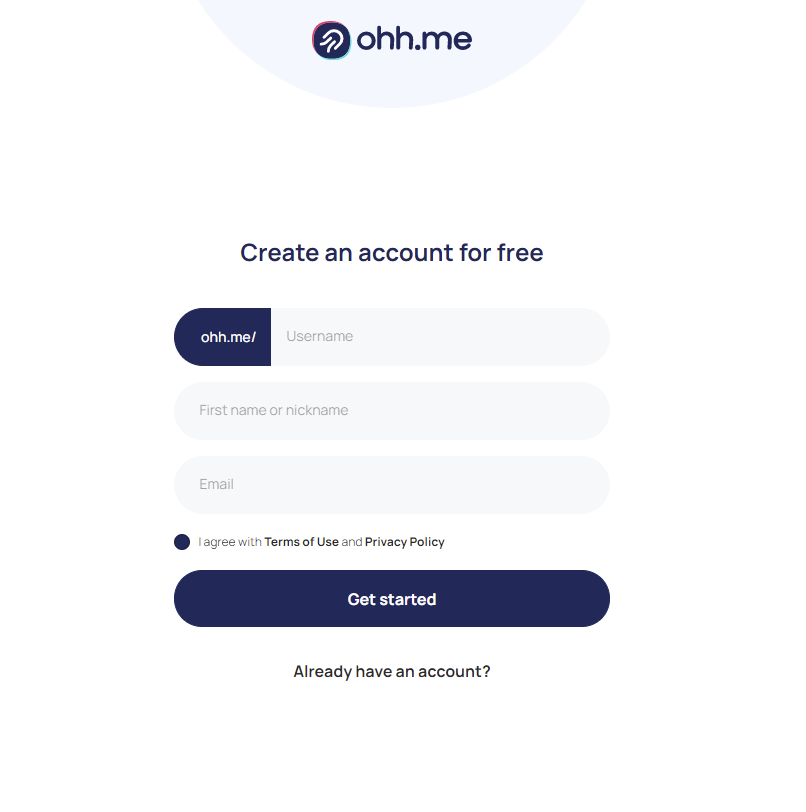 Ohh.me
Ohh.me - Think smart, choose wisely
In today's society, many people have multiple social platforms, and many of them make money off them. Now through the years, some platforms have decided that they don't want these people to profit through theirs on the other ones. Implying that, for example, before, you could have your OnlyFans link in the bio of your Instagram page, but now you can't. Since OnlyFans is mostly used by Instagram influencers and many other figures, Instagram recently decided that they do not want that. Not that they don't want people getting their money in such a way, but they want to keep it family-friendly, which is why OnlyFans is a no. And not only that, but some people want to increase their following on other socials, or others keep wondering if they even have any. Because of that, people do not want to put all the links in their bio because some can't even fit and let's be real, it looks messy. That is why Ohh.me is here to help you all.
And how can Ohh.me help you?
Ohh.me.com is a site that will let you make a free account on it and link all your socials in one place. Yes, even OnlyFans or even similar platforms like it. And what exactly will that do, or how will that help? Perhaps you've been still wondering. Well, let me elaborate further. Since you can't put, for example, all your social links on Instagram per se and even get banned because of OnlyFans, this could help. Help in the way where once you make the account and link all your socials, you will have only one link. And that link will be Ohh.me. The link of Ohh.me is completely safe to put in an Instagram bio, for example, again. You won't get banned from the platform for promoting adult content or anything. And you will also have all your other socials in one place, so when people click on it will be led right to it. Once the person opens up your link, they will be able to go to whatever social they're interested in. And even if you have an adult selling platform, you will be making money in peace with no stress or overthinking about getting banned. Not only that, but on Ohh.me, they also have an option where your fans or anyone can buy you gifts that make you money.
Ohh.me to avoid a ban
Ohh.me will help you not get banned on social platforms that are against promoting adult content selling platforms. And having to send people links separately and privately or remind them with secret code talk on stories is draining. Yes, you can't even mention the word OnlyFans on some socials because it will end up in a ban. That is why Ohh.me, in your link bio, is a lifesaver truly! Every time someone visits your page, they will see it open it and get all your socials and even maybe buy you a gift on it, which is basically money. The donations your fans make that are available are from $5 to $100!
Many perks of Ohh.me
Not only are you avoiding getting banned on regular social platforms, but you have many other perks as well. Including having all your socials in one place and people being able to access all your platforms at any given time. Once you make an Ohh.me account and start using it, you could also become an affiliate member! And don't forget you will be able to receive donations from your fans from $5 to $100. But back to the affiliate. Once you start sharing your affiliate link online or with your friends, you will be able to make additional money. You will get 18% of the Gift's price if your friend signs up for Ohh.me using this link, enables Stripe payments, and receives their first Gift. Many sites that have the same use as Ohh.me exist, but they do not have by any means these said perks. There are no donation gifts, nor could you make additional money by sending the affiliate link to your friends. You will also be able to customize your Ohh.me profile with colors, a short bio, and a picture!
Get Ohh.me today for additional perks
If you are an influencer or aiming to become one, or just enjoying having many platforms, Ohh.me is for you! You don't even have to use it, especially for your adult content selling platforms but just other socials for fun. It's good having everything available to your friends and others in one place. And even better, you might make some additional money if some of the people mess around and send you a donation. And maybe your friends will want it too, and once you send them your affiliate link and they make an account through it, you receive money. You could say it is a free and quick cash grab and who doesn't want that? Like for real! And as an influencer, this will be quite a catch as most of them have links like these in their bio.
Ohh.me is the best choice!
So why not choose the one site that can get you many donations your fans are probably willing to donate once they see they can? And even share it with your friends and make some more additional money. We all love a quick cash grab, but I know you influencers love it especially! So without further ado, Ohh.me should be your choice for all the social media you have. Not only because you will avoid getting banned because many sites like this exist but because you will indeed profit off of it as well. Other sites can't compare and I expect everyone else to agree with me after everything is said in this. Do not make foolish mistakes and look no further when the best option is right here in front of you. Make an account on Ohh.me and enjoy sharing social media while also profiting off of it. Only with Ohh.me!