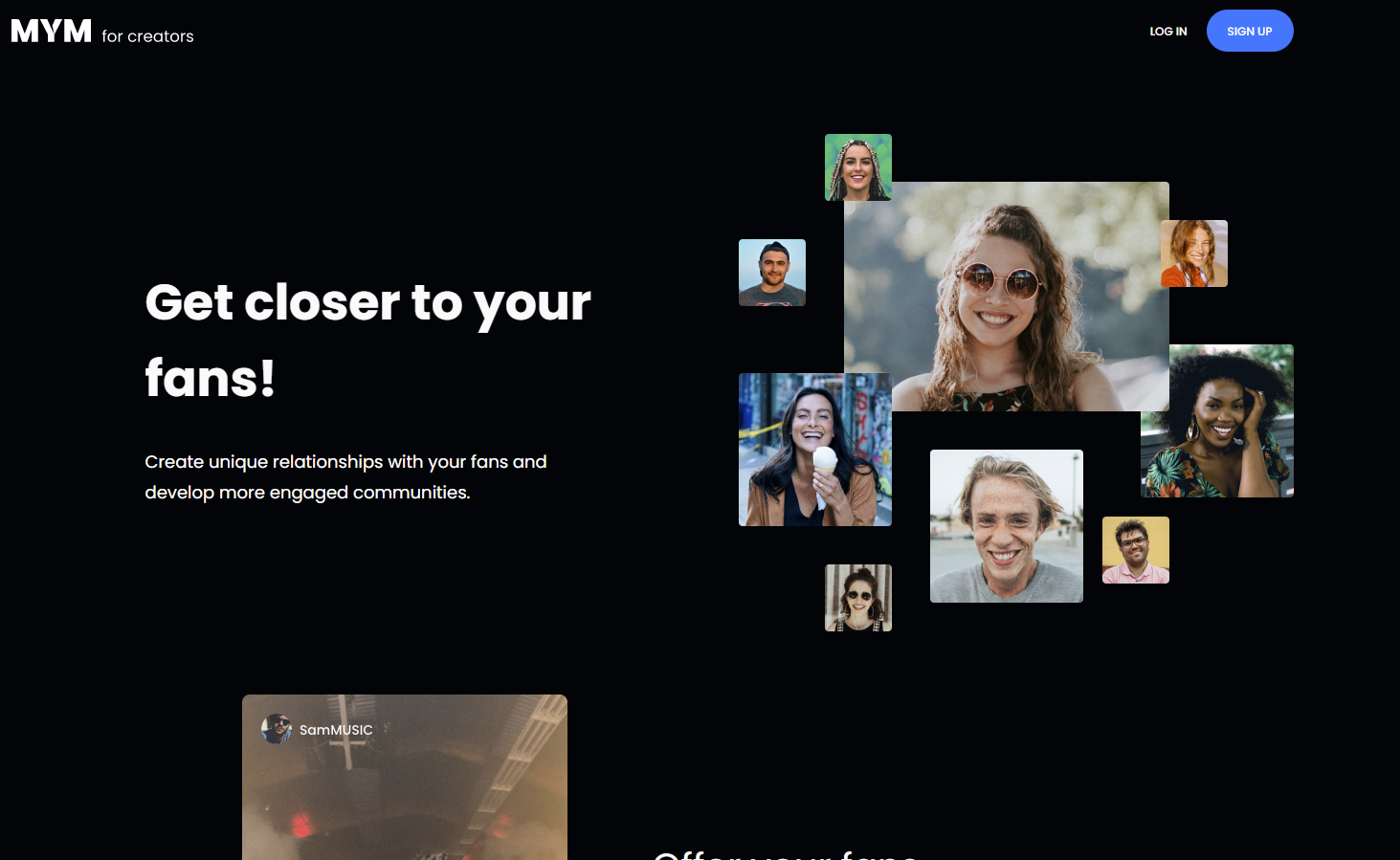 MYM
MYM - Place for your biggest fans
MYM is a site made for content creators who want to make additional content and make more money. Its purpose and benefit are that you can post whatever you want, unlike, for example, on Instagram. If you post nudity on it, you will get an instant ban, or it will be deleted, and that is such a waste. On MYM, you can post whatever kind of content you wish for with no worries. As well as to see which you're biggest and closest fans are who want to support you no matter what. You will be able to post content you aren't able or do not want to share on Instagram, for example. And you are also able to set a price for it to use as an additional or main income if you have a decent fanbase ready to support you. Make your private community where you can go live and share videos, pictures, and stories with your fans. MYM offers you all the tools you need for your work, activity, and income daily. You can also benefit from MYM customer relations support via assistance, concierge service, and guides.
Benefit together with MYM!
As an online content creator, it is always good to have many sides you benefit from, and that is how many influencers are successful. As many of you are probably aware, getting money as a content creator online is different from your regular job. When you make money online, usually just one income isn't enough, and it depends as well on how much money you want and the time you have. As an Instagram influencer, you know you have to be careful with what you post on it in case of being deleted or getting banned even. That is why side sites like MYM exist where you can post the desired content and charge your fans for it. While making the brand deals on Instagram and not risking your platform being gone! As a person who wants to get their income as a content creator online, this is how you do it. You will be able to post any content you want and use it as your personal Youtube or OnlyFans. It depends on you, and many people use it for many types of content, including pornography.
Grow your community
On your socials, you probably have many fans, but how many of them are willing to actually support you? With an MYM account, you will be able to make your own community with your biggest fans. Once you know who your biggest fans are who support you and want to watch your exclusive content, you can get closer to them. You don't know which fan to pay attention to on regular socials since there are many or you don't know who is your actual fan. Some can even LARP as fans but are trolls, and that is why something like MYM is necessary for you as an online content creator. On MYM, you will be able to especially engage only with your biggest fans that will purchase your further content. You will be able to make subscriptions for your account how much you want and how long. Stories, lives, and private content as well can also be charged to your fans, and all the money will go to your MYM account and then to your bank. It is a great thing to know who your biggest supporters are, and it is beneficial to the fans as well. The fans will be able to see your private content and be able to get close to you as your biggest supporters.
As a content creator, multiple incomes are important
As a person who wants to live off of an online persona, you have to know the secret to it is to have multiple incomes. You might as well have a few socials where you profit off in some way, but with MYM, that will improve. It is a special site made for your fans to support you since, for example, on Instagram, they can only give you engagement. While the people make you popular on the platform, brand deals start to come and offer you money and free stuff to promote. And to be able to profit off your fans as well as allow them to get to know you better, you will make an MYM account. On there, you will be making unique content only for your biggest supporters that won't be seen anywhere else. Even if you want to somehow profit off of one social media in multiple different ways, it is better and safer to separate some content. The secret is to use one platform to attract people, grow popularity, and catch those brand deals. While on the other hand, you have a private account that you charge your fans for the additional content.
Think smart, do wise, get MYM!
Once you make your MYM page, depending on your fanbase, you will face the reality of who your true supporters are. Or do you have them, and as that might seem scary, no worries, I am sure you do. And with enough hard work, you will flourish with your online content creation and fanbase soon enough. As you post content on your regular socials and promote yourself and your work, you grow, and your fans grow. With that, even your MYM subscribers grow. And if you have quite the amount of followers on some platform, your MYM account will be folded once you introduce it to your fans. There was just a matter of time before you released something your fans have been waiting or requesting for. And some might even be surprised and still join because why the hell not?! It might seem scary at first, but some great things ahead of you do feel like that. Believe in your work, skills, and fans base, and open up your exclusive MYM account. Once you do, your content and fanbase will flourish together, and you will THRIVE!
Pros:
Great looking site
Great staff
Fast Servers