Extra Lunch Money review
back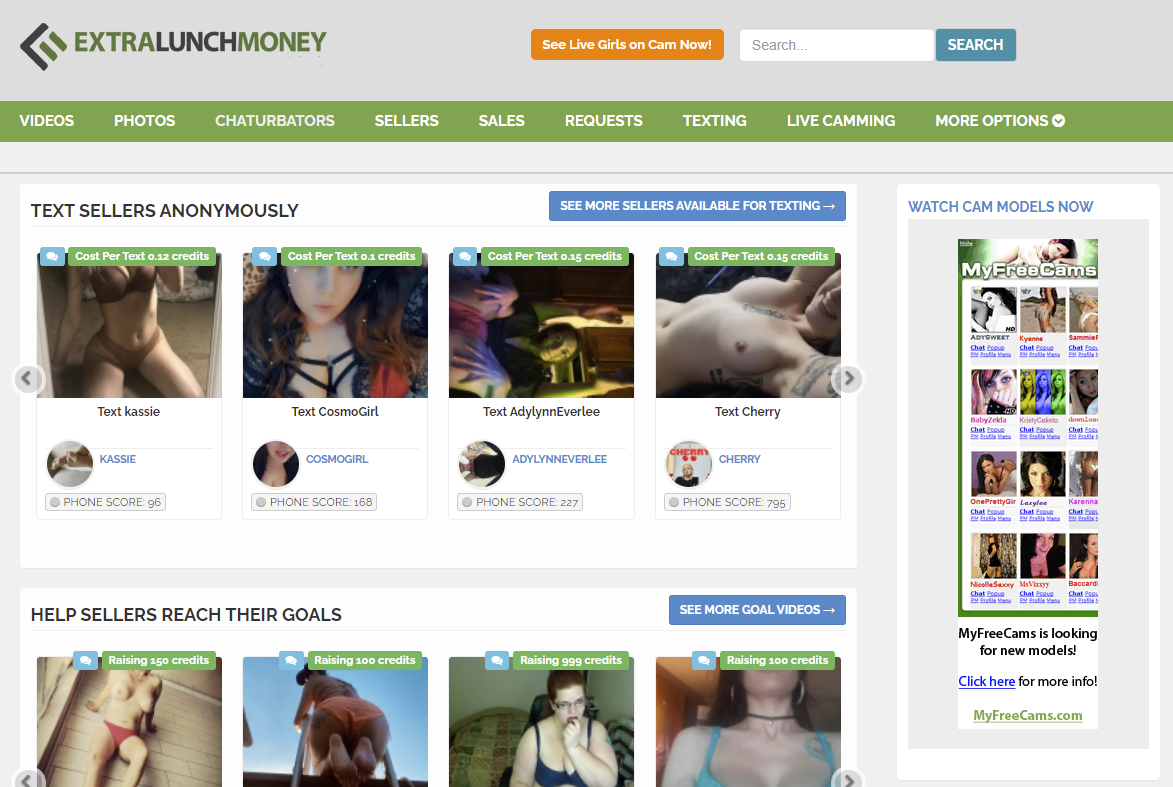 Extra Lunch Money
ExtraLunchMoney.com - Adult content creating a site like no other
ExtraLuchMoney.com might seem like OnlyFans or any other adult content-creating platform at first glance, but it is far from it. Here you can interact with adult content creators directly, and while they mainly focus on amateur porn and custom fetish clips, they do other things as well. They allow adult audios and written adult content work from professionals or amateurs. It does not matter. And exactly that is what makes them a bit different from many other content-creating platforms. What exactly makes them different is that they do not allow third-parties into this. Only the creators who make the content by themselves. Here they have two categories of content, and those are custom jobs and download now. Custom jobs are jobs where sellers post what they can or want to do for money and set up deals together with their customers. And download now category means there is already pre-made content of videos, pictures, and other files that creators sell. You can purchase the content of your choice and download immediately what you would like.
Benefits and content on ExtraLucnhMoney.com
As said before, they have two easy categories where you can choose to get custom content or something pre-made. It is entirely up to you, and unlike many other platforms, they do not have any pop-up ads they could benefit from. They are 100 percent transparent because they care about their customers and want you to know how and why they do things. Integrity is one of their priorities as well, and they do not tolerate catfishes, stealing content, scams, etc... On the main page on the left, they have filters that you can hide, and they consist of product types as well as media types. Other filers are categories, ethnicity, age range, gender, and pricing, so you can choose whatever you like. You are able to make up your perfect product and the model from these filers. Enjoy and explore.
On the main page, there are amateur videos that are labeled with bronze sellers, virgin sellers, seller plus, etc... On the videos, they have labeled credit scores with the cover photo of the content they represent, Besides the video option, there is a section with pictures only if that's what you're feeling at the moment. Another option is chaturbators, and they have their profiles displayed on the page with their short descriptions and displayed photo covers. The seller option has their cover pictures displayed as well as the name of the model, their age and ethnicity under the picture. They also have their points shown under it, what rank they are, and how many likes and unlikes they have. These are all good guides to finding your perfect match. Sales options show you all the sales that are currently active from the models and all the details about them.
Special options
The site also has special option requests where you can send your requests as the name says. On here, you are free to request custom adult videos and photos with the section where you can type them down. And you can also choose the media type, category, and credits. You also have to register on the site or log in if you wish to send any request or interact with the models. Keep in mind that if you are under the age of 18, request extreme violence, harmful, illegal content, or scat, your request will be denied. You are free to type down the details and explain whatever you would like to request, and you will receive an email when you get approved. If you are a seller and see a request that you would like to make, you can click on ''I can do it''. Once you do that, the person who requested it will be immediately notified through their email. And if you would like more info, you have an option that is called request wiki, and just click on the name for it. Here are only real models, and no fakes exist because they keep their business professional. Under the request option, you have public requests that were recently sent and the models that applied for them. You can also select which category to tag that interests you about the requests and maybe get some ideas.
Another option they have is a texting option with models and their pictures displayed who want to chat with you. On their pictures, they all have their phone scores which could be helpful for you to choose the specific one. And how does that work? Well, you have to verify your phone first, which you can do after you connect it to ELM. After you do that, you can connect to any seller. Once you do, the unique number will be modified for you, and you can pick a seller you would like to chat with. You can also text them like you normally text, and you only pay for the sent messages. Notes are available only for Canada and US cell phones for photos and videos. They also have live camming if that is something you prefer or feel like enjoying. Once you click on the camming option, you will see displayed pictures of girls who live cam. They have short descriptions, and whenever they are live, you can join at any time and enjoy their performance. If the model you choose isn't available at the time you would like, there is an option with many models who are streaming currently.
Many more options and benefits
Once you join ELM, you will see and experience many more options and benefits they have for their visitors and customers. All they have is presented just a few clicks away, and they have much content with different variants and prices. When you become an active member, you will see much more things than I wrote here, and you will enjoy it. The site has so many options they can't fit in one bar on the main page and has its separate option, which I'll leave for you to discover once you join ExtraLunchMoney.com.
Pros:
Onlyfans Alternative
Lots Of Models
Competitive Pay Rates